Heidenreichstein
Lower Austria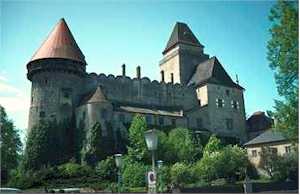 ABOVE: Burg Heidenreichstein has six guided tours a day from mid-April through mid-October. (Tours may be cancelled when fewer than five visitors show up.)
You won't find information on Heidenreichstein in many English-language guidebooks or Web sites. That's a shame, because this town of 4,849 Austrians in the Waldviertel or "Forest Quarter" of Niederösterreich has several worthwhile tourist attractions.
The most obvious is Burg Heidenreichstein (see photo), a moated castle that dates back to 1160 A.D. The massive fortress is billed as "the most beautiful water castle in Austria" and is now operated as a museum with daily guided tours during the tourist season.
The Moor- und Torfmuseum (Moorland and Peat Bog Museum) illustrates the role of peat in Central European daily life, medicine, and culture. A replica of a moorland corpse is on display.
When you visit the museum, take time to explore the Naturpark Gemeindau-Heidenreichstein, which has a circular path that leads through woods and moorland. The park also has a viewing platform where you can observe birds on a large pond.
The Waldviertlerbahn is a narrow-gauge railroad with roughly 50 miles (80 km) of 2'6" (760mm) track. The northern branches that run to Heidenreichstein were opened in 1900, and today the Waldviertel Narrow-Gauge Railways Society operates diesel trains and occasional steam trains on summer weekends.
How to reach Heidenreichstein
Driving is the easiest way to visit Heidenreichstein. From Vienna, the town is a 2¼-hour drive to the northwest over 88 miles (141km) of good roads.
It's also possible to reach Heidenreich by public transportation from Vienna. You have two options:
Take the 1155 bus from central Vienna to Mattersburg and switch to the 1833 bus at the latter's Hauptplatz (main square).
Take the train (intercity or S-Bahn) from the Vienna-Süd station to Mattersburg (this frequently involves a train change at Wiener Neustadt), then walk five minutes from the Mattersburg station to the Mattersburg Fa. Austria bus stop where you can catch the 1833 bus.
Total travel time by public transportation is about 1¼ to 1¾ hours, depending on your route and departure time.
To plan your route, enter "Wien, Coté Sud" and "Heidenreich" in the interactive journey planner of the Austrian Federal Railways.
Related Web links
Heidenreichstein & Tourismusregion Waldviertel Nord
Look at the photos, then translate the text for general information on the town.
Naturpark Heidenreichsteiner Moor
Visit the Nature Park center, go hiking, swim in the natural pond, check out the watch tower, and more.