Paragliding in Switzerland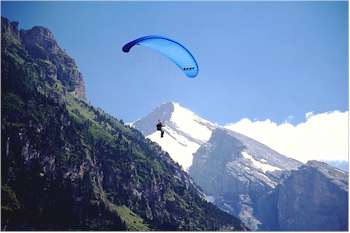 ABOVE: A paraglider soars amid the Bernese Alps.
Paragliding is a major sport in Switzerland. The Swiss Alps provide ample jumping-off points and wind currents, and the world's best transportation system makes it easy for pilots to commute from cities and towns to mountain slopes.
As a tourist, you're welcome to join Switzerland's 13,000 registered paraglider pilots. Rides in tandem (two-seat) paragliders are offered by flight schools throughout the country, and you can arrange for lessons if your maiden flight turns you into an addict. Paragliding isn't just a warm-weather sport, either--in St. Moritz, for example, you can take the Corviglia ski lift up a snow-covered mountain, then glide down to the town's frozen lake with an instructor.
Swiss Paragliding Web links
Many of the Web sites on the following page are in German or French. Don't let this discourage you from arranging a ride, since professional pilots are likely to speak enough English to guide you safely down to earth in a tandem paraglider.
Pages in English are marked with an asterisk (*). You can read German or French pages with AltaVista's free translator.
Paragliding schools