Radstadt and Altenmarkt-Zauchensee, Austria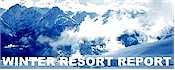 Austria is dotted with popular ski resorts that are unknown to most English-speaking skiers. The Salzburgerland resorts of Radstadt and Altenmarkt-Zauchensee are two cases in point. Austrian and German skiers flock to both towns from late December through March, partly because they offer excellent skiing but also because they're easy to reach by train or car from Salzburg, Munich, or Vienna.
Radstadt: Medieval walls, modern skiing
Radstadt, where my husband and I once lived, is a walled town of 4,500 people in the Pongau district of Land Salzburg. The town is built on a hill overlooking the Enns River, and downhill ski slopes are a kilometer away on both sides of the narrow valley. Cross-country trails are a short walk from the medieval town center and feed into a 220-km (138-mile) network of double-tracked X-C trails for classic Langlauf and skating-style skiers.
Accommodations range from hotels (a few within the walled town center) to pensions, private rooms, and vacation apartments. Radstadt is a great choice for skiers who arrive by train, since its station is an express stop on the railway, and it also appeals to visitors who enjoy a town atmosphere.
Altenmarkt: Ideal for serious skiers
Altenmarkt, 3 km (2 mi.) from Radstadt, is a village of mostly modern chalet-style houses, hotels, and apartments. It has a good deal of charm, although the setting is less dramatic than Radstadt's and cars are more intrusive.
Serious downhill skiers may prefer Altenmarkt because it's closer to the slopes than Radstadt, and also because Zauchensee--a ski area that has hosted many international ski championship--is a few minutes away by car or bus. Altenmarkt is also handy for cross-country skiers, since the Pongau district's vast network of X-C trails is accessible from the village center.
Reaching the resorts
From Salzburg, Radstadt is an hour to an hour and a half by train. (It takes a few minutes longer to reach Altenmarkt, since you'll need to change to a local or regional train in Bischofshofen.) Use the Austrian Federal Railways journey planner to work out your itinerary.
By car, you can reach Altenmarkt and Radstadt via the Tauernautobahn (A10) from Salzburg. Exit at Eben im Pongau and follow the signs for Altenmarkt and Radstadt. (Note: Snow tires and/or chains may be required in winter, when sudden storms can dump heavy snow on roads.)
Next Page > Tourism and ski links > Page 1, 2