Allegra! (Introduction to Romansh)
Of the 6.5 million people who live in Switzerland, roughly 75% speak German. Another 20% speak French, 4% are fluent in Italian, and fewer than 1% (some 48,000 citizens of Canton Graubünden) are native speakers of the ancient language known as Romansh.
Romansh probably dates back 1,500 years or more. The language is based on the so-called vulgar Latin, or "people's Latin," with influences from Etruscan, Celtic, and other languages spoken by early settlers in the mountain valleys of what are now the Grisons and Italy's South Tirol. It was officially recognized as Switzerland's fourth language on February 20, 1938, and was formalized as the written language of Rumauntsch in 1982.
The language encompasses the dialects of Puter, Vallader, Jauer, Surmiran, Sutsilvaun, and Sursilvaun, together with Ladin (spoken around Bolzano and Cortina in Italy's Dolomites) and Friulaner (used by some 500,000 people along the Adriatic coast north of Venice).
To make matters more complicated, the term "Ladin" is also applied to the Puter, Vallader, and Jauer dialects of Switzerland's Engadine. None of this matters to the tourist, who's likely to think a Romansh street sign or newspaper headline is written in mispelled Italian.
Do you need to learn Romansh in any of its many flavors before you visit Canton Graubünden? Not at all. But you'll amaze the locals if you're able to use even a smattering of the local dialect--so make up a cheat sheet with these basic expressions in the Ladin spoken by natives of St. Moritz, Pontresina, and other tourist resorts of the Engadine:
| | |
| --- | --- |
| Hi! | Allegra |
| Good morning, good day | Bun di |
| Good evening | Buna saira |
| Good night | Buna not |
| Bye, ciao! | Ade |
| Good-bye (formal) | A revair, Bun ans vair |
| Thank you | Grazcha |
| Sir / Ma'am / Miss | Signur / Duonna / Matta |
| Excuse me | Ch'el s-cüsa |
| Toilets | Tualettas |
Tip: If you visit St. Moritz, walk or take the train down to Celerina (Schlarigna), just two or three kilometers away, and visit the Chesin Manella der Uniun dals Grischs in the center of town just to say "Allegra" and catch a glimpse of the local cultural scene. (If you speak German, you can also pick up a brochure on the Romansh language.)
Related Web site
Lia Rumantscha
The "Romansh League" promotes the Romansh language and Rhaeto-Romansh culture through libraries, courses, and publications. The site is in Romansh, German, Italian, French, and English.
Bibliography
If you're reasonably fluent in German, the following books may be helpful. (Some are likely to be out of print but should be available at secondhand booksellers.)
Rumauntsch: Puter
Ein Kleiner Sprachführer Führer den Alltag
Phillip Walther, Domenica Messmer
Societed da turrisem d'Engiadin' Ota
Paper, 84 pages
This book (see top photo) is an excellent introduction to the Puter dialect spoken in the Upper Engadine resorts of Canton Graubünden. It contains basic phrases, pronunciation, a grammar, and vocabulary lists.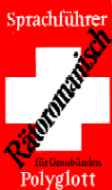 Polyglott-Sprachführer: Rätoromanisch
Sursilvan - Ladin
Rudolf Candrian, Altschuldirektor in Basel
with Prof. Dr. Pieder Cavigelli (Sursilvan), Prof. Dr. Oscar Peer (Ladin)
Polyglott-Verlag München
Paper, 32 pages
Polyglott is one of Europe's leading publishers of phrasebooks. This volume is divided into sections such as "Grammar and Pronunciation," "The Most Important Elements in Brief," "Trains and Postal Buses," Food and Drink," etc. It includes phrases in Ladin (spoken in the Engadine) and Sursilvan (Western Graubünden).
Dicziunari tudais-ch - rumantsch
Reto R. Bezzola e Rud. O. Tönjachen
Lia Rumantscha
Hardcover, 1278 pages
An astonishing amount of research and work went into this hefty German-to-Ladin dictionary, which was first published in 1944 and updated in 1982.