Salzburg Airport (SZG)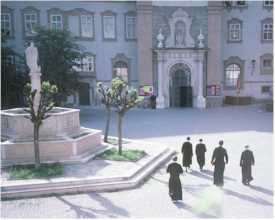 ABOVE: Monks on their way to Sunday mass in Salzburg, which is 20 minutes from the airport by city bus.
Salzburg is a fairly small city, and many tourists (especially those from North America) aren't even aware that it has an international airport. That's unfortunate, because Salzburg's W.A. Mozart Airport is a convenient gateway to Salzburg, the Salzkammergut, and Bavaria. (The German border is just a few minutes from the airport by Autobahn, and the Bavarian city of Freilassing is within walking distance of downtown Salzburg.)
What's more, dozens of airlines fly in and out of Salzburg--from major international airlines like Swissair, British Airways, and KLM to lesser-known carriers like Tunisair and Tyrolean Airways. Nonstop flights connect Salzburg with Amsterdam, Brussels, Frankfurt, London Gatwick, Paris CDG, Zürich, and other European airports, and the summer timetable shows international connections to cities around the world.
Salzburg is especially convenient for travelers from Switzerland, with Swissair offering four roundtrip flights a day from Zürich Airport. (Flying time from Zürich is about an hour.) Frankfurt has four flights a day in each direction on Lufthansa, making it a handy connecting point for transatlantic passengers who are bound for Austria.
For more information on Salzburg's W.A. Mozart Airport, see:
Salzburg Airport
The airport's official Web site has timetables of arrivals and departures, access and terminal maps, and more.