Salzburg's Mozart Mania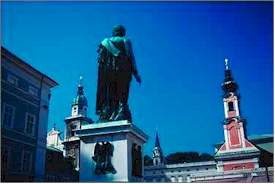 ABOVE: Statue of Wolfgang Amadeus Mozart in the Mozartplatz, Salzburg.
Like many artists from the provinces, Wolfgang Amadeus Mozart couldn't wait to escape to the bright lights of the big city. Although he had a spectacularly successful tour of Europe as a child prodigy, he felt stifled during the years that he spent as an organist and orchestra director for the Archbishops of Salzburg. He finally quit his palace job and fled to Vienna, where he died in poverty at the age of 35.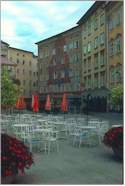 One might think that, after showing so little appreciation for Mozart in his lifetime, Austrians--and Salzburgers in particular--might be reticent about exploiting his memory. But today's Salzburg residents, or at least those in the tourist business, have made up for the sins of their forefathers by honoring their most famous native with a musical foundation, museums, and even a chocolate confection known as Mozartkugeln. The city's airport is named after the local boy who took flight in 1781, and a public square, the Mozartplatz (see inset photo), has a statue that could have been labeled "I'd rather be in Wien."
The musical foundation, the Internationale Stiftung Mozarteum, operates a library, the official Mozart museums, a music school, and a pair of concert halls. It also sponsors the Mozart Week in January and organizes concerts of Mozart's works during the Salzburg Festival. For information on events at the Mozarteum, check with the tourist office during your stay or the events calendar at the Salzburg Information Web site. (See the link on page 2).
Next Page > Mozart attractions, Web links > Page 1, 2