Schloss Schönbrunn
Page 2
Continued from page 1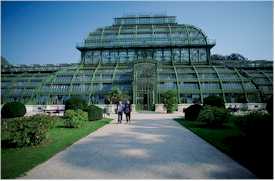 ABOVE: The Palmery, Schönbrunn.
Visiting Schönbrunn
Schönbrunn Palace is one of Vienna's most popular attractions, receiving some 1.3 million visitors a year. Millions of other people--Viennese as well as tourists--explore the surrounding gardens and Schönbrunn's other attractions, which include a zoo (see below), the Palmenhaus (Palm House), a coach museum, cafés, restaurants, classical-music concerts in the Orangerie, a theatre, catered events, and the inevitable gift shop.
When buying tickets, choose the Grand Tour (1½ hours) if you want to see the all 40 State Rooms. The quicker "Imperial Tour" is cheaper but includes only 22 rooms. A "Sisi Ticket" includes the Grand Tour, several Hofburg tours, and the Imperial Furniture Collection. (The Sisi Ticket is valid for a year, so you don't have to do everything the same day.) For more information, see the Schönbrunn Palace Web site below.
To reach Schönbrunn, take the U4 subway line to Schönbrunn (for the palace tour) or Hietzing (for the zoo).
Related Web links
Schloss Schönbrunn
Choose from a variety of tickets and passes, depending on your budget and available time. (For an independent review with an embedded Google aerial photo map, read Steve Larson's Schönbrunn Palace page at Everycastle.com.)
Der Tiergarten Schönbrunn
The Schönbrunn Zoo claims to be the world's oldest, although it has been modernized with new technology over the past few decades.
Back to: Schönbrunn Palace - Page 1
---
---