Swiss Official Timetable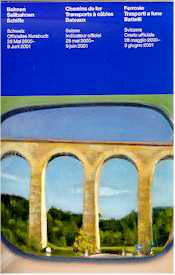 ABOVE: Offizielles Kursbuch / Indicateur officiel / Orario ufficiale
Volume 1 - Railways, funiculars, cable cars, lifts, and boats.
---
---
Archived article
By Durant Imboden
Switzerland's public transportation network is the best in the world. Trains, postal buses, funiculars, aerial cableways, and boats make it possible to reach just about any town or village without an automobile. What's more, the schedules of Switzerland's various transportation services are coordinated with clockwork precision.
With literally thousands of trains, buses, and other departures to choose from each day, how can you figure out the best route from Point A to Point B with the least possible hassle?
One way is to use the Swiss Federal Railways (SBB) interactive timetable on the Web. Simply enter your departure city, destination, route (if you have preferences), travel date, and preferred departure time. Within seconds, you'll get a page that lists all the possible train, boat, and bus routings to your destination. You can even obtain a fare quotation and order your ticket online.
Still, there are times when a printed timetable is even handier--for example, when you're on your way from Geneva to Zürich with a Eurailpass or Swiss Pass and you'd like to make a spur-of-the-minute detour to Neuchâtel. Also, if you're planning a complicated itinerary before leaving home, it's fun to browse through a timetable with a map spread out on the coffeetable in front of you.
Meet the Offizielles Kursbuch:
When you need an encyclopedic guide to Switzerland's transportation services, there's no substitute for the Swiss Official Timetable--also known as the Offizielles Kursbuch, Indicateur officiel, or Orario ufficiale. This remarkable work consists of three volumes:
Railroads, Cableways, and Boats
Buses in Western Switzerland
Buses in Eastern Switzerland
Together, the books are nearly 3-1/2 inches (90mm) thick, despite being printed on thin paper. The two-volume set is published in May and covers summer and winter schedules for a one-year period.
The accompanying photographic excerpt from the Zürich-Lucerne railroad schedule shows what the timetable looks like.
The best bargain in Switzerland:
In a nation where a cup of coffee may cost more than a McDonald's Happy Meal back home, the three-volume Official Timetable is an amazing bargain: only 16 Swiss francs. To buy your timetable, go to the ticket counter in any Swiss railway station and ask for the Offizielles Kursbuch, Indicateur officiel, or Orario ufficiale. (You can also order it online, but the cost of shipping may be prohibitive.)
Got a smartphone or tablet? Download an app:
The Swiss Federal Railways offer free mobile apps that let you check timetables and order tickets from your phone or tablet. Click here for information about the SBB Mobile App.