Swiss Rail Passes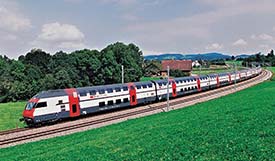 ABOVE: A double-deck train in the Swiss countryside.
By Durant Imboden
Switzerland has the world's best public transportation system. A tourist can arrive at the Zürich or Geneva airport, catch a train, ride to a distant railroad station, and then switch to a lake steamer, postal bus, funicular, or aerial cable car--often with only the briefest of layovers.
In Switzerland by Rail, Anthony Lambert describes the appeal of public transportation in Switzerland:
Principal among the positive reasons is the pleasure of travelling by train in Switzerland. For those accustomed to public transport systems starved of investment, it will be something of a revelation: every aspect of the system seems to be designed and operated to a standard rather than a cut price. Most trains are modern, clean, and punctual. Stations of any size are staffed and offer facilities that smooth the traveller's path, such as luggage forwarding, cycle hire, money changing, and a restaurant or buffet that is often used by locals because of its quality.

But what probably impresses visitors most is the way that Swiss public transport is planned to offer a seamless, integrated service. Trains connect with each other, buses meet and feed trains, and both are timed to complement a boat or funicular service. At each station, tiimetables give clear information about all local transport, walks are signed from most stations, and many offer cycling routes.

Then there is the view from the window. Some suburban lines apart, is is quite hard to find a train journey that does not offer attractive scenery, and Switzerland has more than its fair share of the world's most spectacular train journeys. Although the best-known are deservedly popular, there are some little-known journeys through equally fine landscapes to provide that sense of surprise which is part of the joy of travel.
Swiss rail passes (also known as "travel passes," since they can be used on multiple modes of transportation) make getting around Switzerland even more convenient, because they offer big discounts and--in many cases--eliminate the need for buying point-to-point tickets in Switzerland.
Rail passes for foreign tourists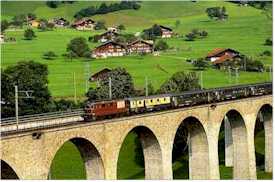 ABOVE: A train of the BLS near Frutigen in the Bernese Oberland.
The most useful Swiss Travel System passes are intended for foreigners. You can buy them online (see links below), from many travel agents, or at major railway stations in Switzerland (including the stations in the Zürich and Geneva Airports) upon presentation of a foreign passport.
Swiss rail passes come in versions for first- or second-class travel. Products may vary, depending on your country of residence. Here's a list of passes available to non-residents of Switzerland and Lichstenstein:
Swiss Travel Pass. Use this for unlimited travel on the Swiss Federal Railways, postal buses, lake steamers, and local transportation in more than 90 cities, suburbs, and towns. Just show your pass to the conductor (along with your passport, if asked). The Swiss Pass also gives a 50% discount on most mountain railroads, funiculars, and aerial cablecars, and it includes a Swiss Museum Pass, which allows free entrance to nearly 500 museums and exhibitions.
The Swiss Travel Pass is offered for periods of 3, 4, 8, or 15 consecutive days. If you order online, you'll get a PDF pass by e-mail that you can print at home.
Swiss Travel Pass Flex. If you plan to stay mostly in a few areas, this more flexible (and slightly more expensive) version of the Swiss Travel Pass is a good bet. Instead of being valid for consecutive days, it allows unlimited travel on any 3, 4, 8, or 15 days within a month.
Swiss Half Fare Card. The Swiss Travel System's one-month card allows unlimited purchase of train, boat, postal bus, and local transit tickets at discounts of up to 50 percent.
Swiss Transfer Ticket. Use this for roundtrip transportation from a Swiss airport or border point to a destination within Switzerland. The Transfer Ticket is especially handy for skiers who'll be buying lift tickets for local or regional transportation after they reach a resort. (Warning: You can't buy this ticket in Switzerland--you'll need to order it before your visit.)
For curent prices, see the links below.
Tip: Eurailpass and Europass allow free travel on Swiss Federal Railways and discounts on some other services, but the passes and cards mentioned in this article are better values if you're traveling extensively within Switzerland.
Family travel discounts
If you're traveling with children, be sure to request the free Swiss Family Card when you buy your Swiss Travel System pass or at any Swiss railroad station.
The Family Card offers free travel for children from the ages of 6 through 15 when they're accompanied by a parent. (Children under 6 don't require tickets.)
Web link
SBB CFF FFS
The English-language Swiss Federal Railways Web site has information on passes under "Travelcards & Tickets."