Vienna's Danube (Donau)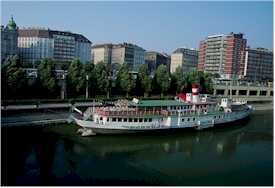 ABOVE: A local cruise ship on the Danube in Vienna.
The Danube is one of Europe's most celebrated rivers. It's much loved by the Viennese, including composers who have honored their favorite Fluss with everything from waltzes to sentimental songs.
For a river that plays such a key role in Viennese tradition, the Danube (Donau in German) is a disappointment to many tourists. That's because the most visible part to inner-city visitors is the Donaukanal, an artificial channel or bypass that borders the old quarter of central Vienna.
The river itself is farther away, beyond the 2nd District, where it's divided into two sections by the manmade Donauinsel or "Danube Island," which offers cycling, picknicking, and water recreation of every type. Just a little farther on is the nicely preserved Alte Donau, or "Old Danube," where you'll find old-fashioned swimming beaches and café-restaurants that offer boat rentals and (in winter) ice skating.
Other attractions along the Danube include the Donauturm (Danube Tower) with its 150m observation deck and the surrounding Donaupark, which is next to the United Nations UNO-City complex. The Prater amusement park with its world-famous Riesenrad (a giant Ferris wheel) is also between the Donaukanal and the main river.
You can take sightseeing cruises on the Danube, ranging from short tours to day trips to luxury cruises between Germany and the Black Sea. For more details on Danube cruising, see tour listings of river-cruising lines in our European Cruise Guide at Europe for Cruisers.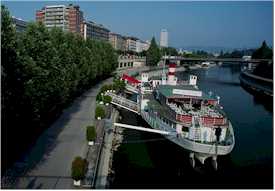 ABOVE: Another view of the Danube riverfront.
Web links
Danube Sights, Attractions, Restaurants
Donauturm
The Danube Tower has an observation deck 150 meters (492 ft) above the ground, plus a café and a restaurant. It stands in the Danube Park, next to the United Nations complex at UNO-City.
Prater
The Prater Amusement Park has been entertaining the Viennese and tourists since 1766. If you come, don't miss the 1897-vintage Riesenrad (a giant Ferris wheel with cabins that resemble small buses) and old-fashioned restaurants like Schweizerhaus where you can wash down traditional specialties with beer or wine. Click "EN" on the Prater site's home page for English.
Alte Donau
Bootsvermietung und Buffet Familie Kukla
Rent a rowboat, sailboat, canoe, aqua-ski, or surfboard from a family-owned business that was founded in 1925. Beer, wine, snacks, and meals are available in the buffet.
La Crêperie
In addition to French crêpes and other dishes, this restaurant has three-hour gourmet cruises on a "floating terrace" for groups of 14 to 20.
Gasthof Neuer
Boat rentals, a restaurant, and winter ice skating are on tap at the Neuer, which is located on the upper Alten Donau near the Strandbäder S-Bahn station.
Segel- und Surfschule Hofbauer
Take a week-long sailing course at a school that trains amateur and professional sailors. If you have kids from 8 to 16, you can sign them up for a junior course during the summer school vacation.
Danube river cruises
DDSG Blue Danube
Take a local sightseeing cruise, book a dinner-and-dancing cruise, or enjoy a longer excursion to Dürnstein on the Wachau.
European Cruise Guide europeforcriusers.com
Several of the river-cruise lines described here offer cruises on the Danube.