"VIENNA'S MUSEUM QUARTER" Page 1, 2, 3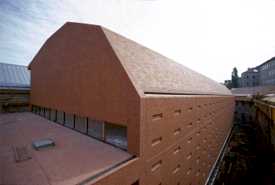 ABOVE: The new Kunsthalle in the MuseumsQuartier Wien.
More cultural institutions
Some of the other arts and culture institutions within the MuseumsQuartier Wien include:
Architektur Zentrum Wien. The Vienna Architecture Center offers exhibitions and undertake research with the participation of the international academic community.
Art Cult Center: Tabakmuseum. The museum's official description reads: "One of the world's most important collections on tobacco history illustrates the cultural development of tobacco from its beginnings in the 15th century to its global economic significance in today's society."
TanzQuarter Wien. The Vienna Dance Quarter stages dance events with an international focus. It also has rehearsal studios and a specialized library and video collection.
Theaterhaus für Kinder. Plays, dance, musicals, puppet shows, and opera from Austria and other countries are performed at the new Children's Theatre.
Wiener Festwochen. Halls E and G of the former Winter Riding School hosts music, theatre, dance, and film performances during the Vienna Festival Weeks, the Viennale Film Festival, the International Dance Festival, and other events.
ZOOM Children's Museum. Austria's first children's museum includes the "Ocean" (a sensory play zone for young children), an array of changing exhibitions, and a multimedia lab.
For information on other arts and culture organizations in the new complex, see the official MuseumsQuartier Wien Web site (link on page 3).
Next Page > Web links > Page 1, 2, 3
---
Information source:Vienna Tourist Board.
Photos courtesy MuseumsQuartier Wien.