Vienna's Museum Quarter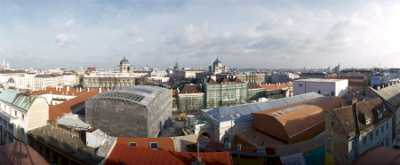 ABOVE: MuseumsQuartier Wien is a complex of old and new buildings near the Imperial Palace and the Heldenplatz.
Vienna's new Museum Quarter, or MuseumsQuartier Wien, is the museum world's answer to the shopping mall. The vast complex combines old and new buildings into a single entity of 20 museums and cultural organizations, plus cafés and shops to provide a break from intellectual overload.
Three new buildings form the core of the MuseumsQuartier:
Kunsthalle Wien, which is integrated with the former Winter Riding School. The museum features international contemporary and modern art and "accords special significance to the presentation of trans-genre and interdisciplinary trends" with an emphasis on photography, video, film, and experimental architecture.
Museum of Modern Art, Ludwig Foundation Vienna. "MUMOK," as the Viennese have dubbed the MUseum MOderner Kunst, is the largest Central European museum for modern and contemporary art. Its new building has an exterior of anthracite-grey basalt lava, and the interior design is a futuristic blend of cast iron, basalt, steel, and glass. The museum's collection includes works by Pablo Picasso, Paul Klee, Oskar Kokoschka, Andy Warhol, and other internationally renowned artists.
Leopold Museum. Some 5,000 works, mostly of Austrian art, make up the collection that Rudolf and Elisabeth Leopold built up over a 50-year period. The wide-ranging exhibits cover the Viennese Secessionist movement, Vienna Modernism, Austrian Expressionism, and the world's largest collection of works by Egon Schiele. It also has objects from Africa and Oceania as well as ancient Chinese and Japanese art.
Next Page > More institutions > Page 1, 2, 3
---
---
Information source:Vienna Tourist Board.
Photos courtesy MuseumsQuartier Wien.