Swiss & Austrian Accommodations
Page 3
Continued from page 2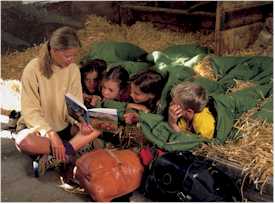 ABOVE: A mother and her children enjoy Schlaf im Stroh ("Sleep in Straw") accommodations in Switzerland.
Farmhouse stays
If you have children, or if you've always dreamed of milking a cow, consider spending a few days or a week on a Swiss or Austrian farm. This obviously works best if you're renting a car, since you can then use the farm as a base for excursions.
The Schlaf im Stroh ("Sleep in Straw") program of the Swiss Farmers Association is another popular option. During the summer, when cows are moved to alpine pastures, many farmers turn their barns into rustic hostels for hikers, families, nature lovers, and youth groups. The rockbottom price includes breakfast.
Camping
Switzerland and Austria offer several hundred campgrounds. Like hotels, they have one- to five-star ratings depending on the services and luxury they offer. Most are open from spring through fall. Local tourist offices can point you in the right direction.
Youth hostels
Nearly every Swiss or Austrian town of any size has at least one youth hostel. These modern, well-equipped establishments typically offer two- to four-bedded rooms instead of old-style dormitory accommodations, and many are surprisingly luxurious. They're a great value for travelers of all ages.
For more information, see these articles:
Swiss Hotel Rooms
Switzerland's beds and bedding aren't designed for hanky-panky, and the toilets can be tricky.
Swiss and Austrian Hostels
On a budget? Stay at 160+ comfortable hostels that cater to individuals, families, and groups of all ages.
Affordable Zürich Hotels
A guide to three Zürich hotels in the low to medium price range: the Franziskaner, the Du Théâtre, and the Limmathof.
Riffelalp Resort, Zermatt
Nearly 40 years after the legendary Riffelalp Grand Hotel was destroyed by fire, a new and more intimate resort hotel occupies its site on a mountain plateau overlooking the Matterhorn and Zermatt, Switzerland.
Photo: © Switzerland Tourism. All rights reserved.