Swiss & Austrian Accommodations
Page 2
Continued from page 1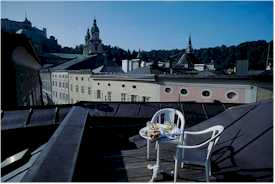 ABOVE: Rooftop breakfast at the Hotel Altstadt, Salzburg, Augtria.
Private rooms
Homeowners all over Switzerland and Austria rent private rooms to visitors at very reasonable prices. Such accommodations can be delightful even if you aren't on a budget.
Years ago, on our first trip to Switzerland, we asked the stationmaster in Ringgenberg (near Interlaken) if he knew of any private rooms. The stationmaster spoke to a youth who was hanging around the station, and a moment later we were walking up the hill through a neighborhood of chalet-style Bernese farmhouses.
When we reached the young man's home, his mother--a Frau Schmocker--showed us a very pleasant two-bedroom suite and asked if we could come back in an hour. Upon our return, we discovered that one of the two bedrooms had been turned into a sitting room, complete with love seat and coffee table--just to make us more comfortable during our one-night stay. The modest price included breakfast and a private balcony with a view of Lake Brienz.
Private rooms are easy to find. Ask for a list in the local tourist office, or look for signs that read Zimmer frei, Privatzimmer, Chambre a louer, or Affitasi camera in the windows of private homes.
Apartments, chalets, and villas
Rental agencies in the U.S. and Canada can set you up in an apartment, villa, or chalet by the week. However, you'll save money (and have a greater choice of quarters) if you make arrangements directly with homeowners. This is easy to do if you can write a simple letter in the language of the region that interests you, with help from Google Translate.
In many cases, you can make reservations with e-forms at local tourist offices' Web sites in Switzerland and Austria. Or you can request printed literature from tourist offices by e-mail. You'll generally find a hotel list--which includes descriptions of apartments and chalets, where available--inside each brochure. (A few larger resorts, such as St. Moritz, publish separate directories of such accommodations.)
Farmhouses, camping, youth hostels,
and related articles and links