Zürich's Street Parade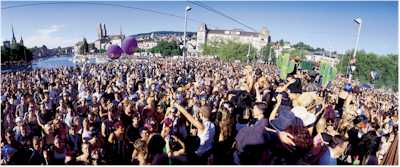 ABOVE: Up to half a million fans dance to Techno and House music in Zürich, Switzerland each August. The picture shows the Quaibrücke bridge between Bürkliplatz and Bellevue. For a larger picture (115Kb download), click here.
Techno and house music have millions of fans in Switzerland and Germany, where you're far more likely to hear the driving electronic beat of synthesized music than alphorns or oompah bands--unless you're at Oktoberfest or a nightclub that offers tourist shows.
Each year during August, hundreds of thousands of techno and house aficionados join a pilgrimage to Zürich for the Street Parade: an event that turns Switzerland's largest city into "the capital of the techno world."
The parade, which features dozens of floats called "Love Mobiles," is meant to be "a demonstration in support of love, peace, and tolerance" to the beat of house and techno. It even has a broadcasting station, Radio Street Parade, which operates around the clock Mhz during the week leading up to the festivities. And when the parade is over, dozens of house and techno parties take place in and around Zürich, ranging from large festival-style events to underground raves for the cognoscenti.
Parade organizers recommend wearing earplugs (available at the parade) and emphasize the parade's policy of "no drugs, no dealing, good feeling!" If you get thirsty or hungry, head for an official refreshment stand. Proceeds from refreshment sales help cover the cost of the parade.
For more information, see:
Street Parade Official Web Site
Learn about the parade's schedule and history, and monitor the schedule of parties during the weekend.
Photo © Switzerland Tourism. All rights reserved.