Photo Gallery:
Riffelalp Resort
Zermatt, Switzerland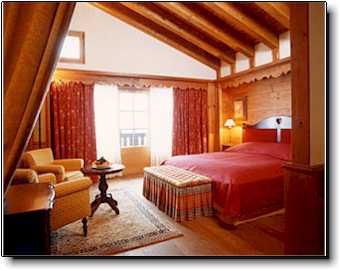 Riffelalp Resort guest room: A king-size bed faces the seating area of a room in the newer section of the hotel. In the background are the glass doors leading to a balcony. (Most, but not all, of the Riffelalp Resort's rooms have balconies, and many have views of the Matterhorn.) Drapes and lights are operated by remote controls on the two night tables.
Also see: Index of Zermatt and Riffelalp articles and photo galleries.
Photo copyright © Riffelalp Resort.
Used by permission. All rights reserved.