Underground Berlin
Berliner Unterwelten - Berlin Underworlds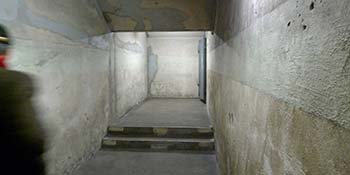 ABOVE: A tunnel leads from a former East German civil-defense shelter to the oldest, deepest U-Bahn station in Berlin.
By Durant Imboden
According to the authors of Dunkle Welten (Dark Worlds), up to 40 percent of Berlin's structures are underground. Sewers, brewery cellars, U-Bahn and S-Bahn lines, railroad tunnels, an old pneumatic dispatch system, World War II bunkers, Cold War air-raid shelters, escape tunnels, modern electricity and communications tunnels, and other subterranean spaces are located around the city, with an especially high concentration near the Potsdamer Platz in what used to be known as East Berlin.
In 1997, a small group of urban archaeologists founded Berliner Unterwelten e.V. (in English, the Berlin Underworlds Association), which sought to document, explore, and--in some cases--restore underground structures for public use.
Today, the organization offers guided tours, exhibitions, and even theatrical performances and concerts below ground. For visitors, the guided tours are the main attraction, and they offer a fascinating glimpse into a world that is literally hidden beneath the surface of Germany's capital city. You can learn more on the next page of this article:
Next page: Guided tours, visitor information
---
---
---