Uniworld River Baroness cruise review
Page 8
Continued from page 7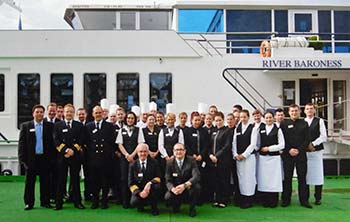 ABOVE: We found this souvenir photo of the officers, enginers, sailors, and hospitality staff in our cabin on the last night of the cruise. (Click for larger image.)
Officers and crew
River Baroness normally has a crew of 38 to serve a maximum of 120 passengers. On our cruise, the staff included: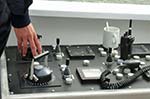 A first and second captain. A river vessel typically has two captains or river pilots, who take turns steering the ship from the wheelhouse or--in locks or while mooring--from remote consoles on the Sun Deck.
A chief engineer and engine-room staff. These crew members were mostly out of sight and out of mind, but we occasionally saw a man in a boiler suit walking around purposefully.

A hotel manager. Sebastien Wendling, the hotel manager on our cruise, was a warm and witty man from Strasbourg who had been employed by Hilton Hotels in the UK before entering the river-cruise business. He was in charge of the ship's hotel operations, and his immediate assistants included the purser and reception staff.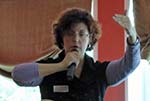 A cruise manager (the equivalent of a cruise director on oceangoing ships). Ramona Kurcsics oversaw shore excursions, previewed upcoming ports and tours in the lounge each evening, and helped passengers with their transfers and other travel arrangements. (Durant had cruised with Ramona Kurcsics on a Peter Deilmann cruise from Venice eight years earlier.)

Bar and dining room staff, including executive chef Frédéric Roland and restaurant manager George Muresan (shown at left), a bartender, and a crew of cheerful, hard-working waiters.
Housekeeping staff, both male and female, mostly from Eastern Europe. The housekeepers during our voyage were friendly and efficient, and our cabin was kept spotlessly clean throughout the cruise.
Several sailors who maintained the ship, handled the mooring lines in ports, and helped the captains deploy and retrieve the gangways.
About tipping: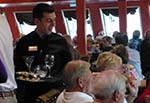 Like most cruise-line employees, Uniworld crew members rely on tips for a significant share of their income. As of fall, 2012, Uniworld suggested gratuitities of € 10 per day, per passenger, for the crew and € 3 per day for the cruise manager. The night before the end of the cruise, we were given envelopes that we could drop in tip boxes at Reception. Alternatively, we could charge tips to our credit card.
On shore excursions, as on any guided land tours, it's customary to tip local tour staff (typically € 2-3 per passenger for guides and € 1-2 for bus drivers, depending on tour length).
Next page: Is Uniworld right for you?
---
---
---
---