Holland America Line
ms Rotterdam Photo Gallery
From: ms Rotterdam Cruise Review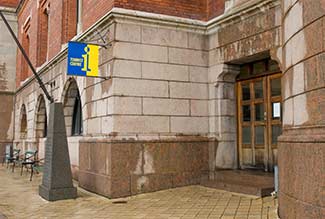 Helsingborg, Sweden
The Helsingborg Tourist Center is located inside a side entrance at Rådhuset or City Hall. You can't miss it--just look for the blue-and-yellow sign.
The tourist office has a large selection of maps and brochures, and a souvenir shop is across the hall. (When we visited, it was unattended, and a sign asked shoppers to pay in the tourist office. Apparently shoplifting isn't a big concern in Helsingborg.)
You'll also find a handicapped-accessible toilet around the corner in the hallway; to use it, you'll need to borrow a key from the tourist office.
---