Belgium's Flemish Coast
Tourist Information and Travel Guide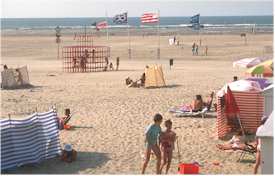 ABOVE: Beach at Zeebrugge, Flanders, Belgium.
By Durant Imboden
When the summer heat turns oppressive in Brussels and other inland cities, do as the Belgians do: head for the coast of Flanders and take a dip in the North Sea.
Smooth sandy beaches run for nearly 42 miles (67 km) between De Panne and Knokke, with a width of up to half a kilometer at low tide. In several resorts, you'll also find massive sand dunes and nature preserves--while in others, you can visit casinos, spend hours in fashionable shops, explore museums and aquariums, fish, ride horseback, windsurf, learn the sport of "sand yachting," or take the kids to amusement parks and other family attractions.
On page 3 of this article, you'll find links to Web pages for some of the best-known resorts:
Blankenberge, with its classic pier (built in 1933) and a Sea Life Center where visitors view more than 70 types of fish from an underwater tunnel.
De Haan, a 19th Century gem of a town bordered by forested dunes and equipped with marked paths for walkers, bikers, and horseback riders.
De Panne, which claims a third of the dunes on the Flanders Coast and has four nature preserves plus the Plopsaland theme park (formerly Meli Park) in the neighborhood.
Knokke, where wealthy Belgians come for sun, fun, and shopping. (At Heist next door, the emphasis is on family relaxation.)
Oostende (Ostend), a thousand-year-old city with marinas, an old fishing port, a casino, a lively downtown, and high-speed ferry connections to England.
Zeebrugge, Belgium's deep-water port, which is just a short hop from Bruges (Brugge), a city that's often called "the Venice of the North."
Accommodations
The 13 coastal resorts of Flanders are dotted with hotels, apartments, villas, cottages, holiday villages, campgrounds, and other accommodations. See the tourism Web sites on page 3 for more information, and contact the local tourist offices for printed literature.
Renting one of the coast's 40,000 vacation houses and apartments through a real-estate agency is worth considering if you're staying for a week or longer. During July and August, self-catering rentals are usually for two weeks or a month, and cottages or flats may be booked months in advance.
TIP: If you're visiting a seaside resort for a week or more, ask the local tourist office for the names of firms that rent beach huts ("cabaņas" in U.S. parlance). With a beach hut, you'll have your own private changing facilities and won't have to lug all your gear down to the beach every day.
How to reach the Flemish Coast
You can drive, of course, using the E40 motorway from Brussels or any number of other roads. Buy a good map, resign yourself to traffic congestion on summer weekends, and try to forget that Belgium didn't require drivers' tests until the 1970s. (Warning: Traffic from the right takes priority, so watch out for aggressive drivers at intersections.)
Trains and trams (see page 2) are a more pleasant--and often cheaper--option. Frequent trains of the Belgian National Railways connect inland cities to Knokke, Blankenberge, Oostende, and De Panne. During the summer high season, special tourist trains make it easy to reach the Flemish coast without train changes. Travel times are short: for example, it's only about 1 hour 10 minutes to Oostende from Brussels, or 15 minutes from Bruges.
Once you've reached the coast, you can use the Coast Tram to shuttle between resorts. This modern light-rail system runs from De Panne to Knokke, with trams taking 2 to 2-1/2 hours to cover the entire route.
---
---
"Best of the Web"
- Forbes and The Washington Post
---
Our most popular topics:
---
---

Need a car in Europe?
Auto Europe guarantees the lowest rental rates for standard cars, sports cars, SUVs, luxury cars, chauffered sedans, and RVs. Its Web site also has driving information for 38 countries.

Auto Europe
If you live outside the EU, a tax-free Renault or Peugeot tourist lease can be cheaper than renting. Minimum driver age is 18, there' s no upper age limit, and rates include insurance.

Short-Term Car Leasing
---

Traveling by train?
Rail Europe has free schedules, maps, and guides for 50+ European railroads.

Rail Europe
---