Hans Rijpma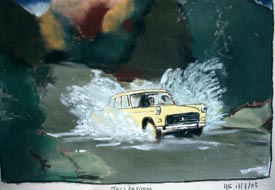 ABOVE: Tres Arroyos, by Hans Rijpma.
---
The Dutch artist Hans Rijpma is a native of Amsterdam, where he was born in 1951. He began sketching and drawing as a schoolboy and kept it up through a career as clerk of the court in Amsterdam and Utrecht. After becoming a member of the Artists' Society in Maarssen, a picturesque village on the Vecht River, Hans Rijpma went on to give exhibitions at artists' fairs, at corporations such as Shell and Solvay, in the Dutch Ministry of Justice, and--most recently--in the Grande Arche of La Défense in Paris.
Hans Rijpma normally draws in chalk or crayon on 70 x 100-cm. paper. Many of his drawings feature classic automobiles, and his work was featured in a leading car magazine. Mr. Rijpma lives in Maarssen, the Netherlands and is represented by John Buisman, who can be contacted at:

To see more of Hans Rijpma's work, visit the Dutch-language Hans Rijpma Web site or view the six Hans Rijpma drawings on page 2 of this article.

Next page: Six drawings by Hans Rijpma

---

---

Photo and drawings copyright © Hans Rijpma. Used by permission.

The JavaScript e-mail link on this page is adapted from a free script at JoeMaller.com.
"Best of the Web"
- Forbes and The Washington Post
---

Need a car in Europe?
If you live outside the EU, a tax-free tourist car lease can be cheaper than renting for visits of 21+ days. Other benefits:
Minimum driver age is 18.
No upper age limit.
100% insurance coverage.
Wide range of cars, vans, and SUVs.
To compare vehicles and rates, see:

Renault

Peugeot
For car rentals under 21 days:

Auto Europe
---
---
Traveling by train?
Get free schedules, maps, and guides for 50+ European railroads. (Residents of North and Central America can buy tickets and rail passes online.)

Rail Europe