PR Opportunities
Information for Public Relations Professionals
From: About Us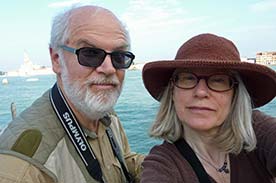 ABOVE: Durant and Cheryl Imboden in Venice, Italy.
What you need to know about us:
Our circulation numbers are impressive for a highly-targeted travel site: nearly 264,000 visits, more than 214,000 unique visitors, and nearly 955,000 editorial pageviews per month, with readers who are far more prosperous and highly-educated than average. (See Audience: Traffic and Demographics.)


Our editorial content is geared to active travelers (not armchair travelers) who are researching where to go and how to spend their money in Europe.
Where to send press materials and inquiries:
To send press releases and JPEG photos by e-mail, or to request offline contact information (phone, fax, and mailing address), please use this address:

---
Credit: The JavaScript e-mail link on this page is adapted from a free script at JoeMaller.com.