Maratea
Basilicata - Italy
<< Continued from page 3
By Durant Imboden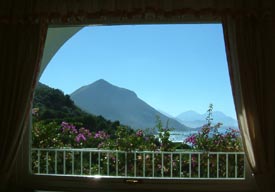 ABOVE: View from the lounge of the Santavenere Hotel, a five-star hotel within walking distance of the port.
Hotels
Maratea has a variety of hotels, including three that I've stayed in or visited:
Santavenere Hotel (5 stars) in Fiumicello di Maratea, a short walk uphill from the port. If you can afford the rates at this luxurious yet friendly hotel, stay here--and request a ground-floor room in the main building with a stone terrace that overlooks the sea.
Locanda delle Donne Monache (4 stars), a converted convent in Maratea's historic center. The rooms are comfortable, the kitchen is first-rate, the location couldn't be better for sightseeing, and the hotel offers a free shuttle to Maratea's railroad station and the beach (where sun beds and umbrellas are free for hotel guests). Ask for suite 9, which has a grotto bathroom with sunken tub.
Other hotels that I haven't visited include La Dimora del Cardinale in the historic center, the Hotel Settebello in Fiumicello di Maratea, the Hotel Villa degli Aranci (near the train station), the highly-rated Borgo La Tana south of Maratea, the modern timeshare apartments at Club Residence Pianeta Maratea on a slope overlooking the sea, and--10 km north in Acquafredda--the Villa Del Mare and the Villa Cheta Elite.
Restaurants
Many of Maratea's best restaurants are in its hotels. Here are three hotels where I've dined:
The five-star Santavenere Hotel has two restaurants. The main dining room offers superb food, including some of the best fish I've enjoyed in a lifetime of travel. The views are wonderful, too, whether you're eating indoors or on the terrace. Another option is the hotel's alfresco bar-restaurant on the beach, which is accessible on foot or in a chauffeured electric cart.
In town, the Locanda delle Donne Monache also has an outstanding kitchen. The cozy dining room has rough stone walls, a beamed ceiling, and windows overlooking the hotel's pool.
The Grand Hotel Pianeta Maratea's restaurant serves excellent food in an ultramodern setting.

A few miles inland in Massa di Maratea, Michele and Milena Bacchiglione serve grilled meats and other local delicacies at Il Giardino di Epicuro. When I dined at the restaurant, my companions and I shared orders of antipasto and pasta followed by individual main courses of lamb chops (see photo), pork, and veal. In late 2002, our meal cost about €30 per person with wine, dessert, and tip. Reservations are suggested; call 0973 870130 and ask for Annelia ("a-NAYL-ia"), the couple's English-speaking daughter.
I haven't dined at Zą Mariuccia, but this long-established seaside restaurant in the Porto di Maratea has a good reputation. The house specialty is ravioli di ricotta dolci in ragł d'agnello ("ravioli of sweet ricotta cheese in veal sauce").
Finally, Fred Plotkin's superb book, Italy for the Gourmet Traveler, recommends an establishment that I didn't have a chance to try: Ristorante Da Cesare, a moderate to expensive restaurant in Cersuta (between Fiumicello and Acquafredda on the coastal road) that specializes in fresh seafood such as grouper and tuna.
---
---
---