Stockholm Ice Bar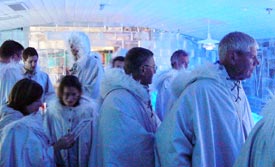 ABOVE: Patrons in parkas belly up to the Absolut Ice Bar in Stockholm's Nordic Sea Hotel.
By Dnrant Imboden
The Absolut Ice Bar in Stockholm, Sweden gives new meaning to the phrase "on the rocks." Drinks are served in fist-sized hollow ice cubes, and the barmaid plunks them down on a bar made of clear ice blocks. The walls and tables are also built with ice harvested from the Torne River on the border between Sweden and Finland, where the Ice Bar's management has operated the widely publicized Ice Hotel in Jukkasjärvi since 1989. (The ice bar and its frozen furnishings are rebuilt every six months.)
Stockholm's Ice Bar, which opened in 2002, is probably the most celebrated alcoholic attraction in Sweden. It drew 70,000 visitors in its first year, has been featured on the BBC and CNN, and has been frequented by such celebrities as Pierce Brosnan and Sweden's own Stellan Skarsgård. The bar's success prompted Absolut, the Swedish vodka distiller, to buy naming rights in late 2003. The rechristened Absolut Ice Bar is said to be "the first establishment in Icehotel's and Absolut's new joint global franchising concept," so who knows: An Ice Bar might be in your future even if you live in Freemantle or Phoenix.
Next page: The Ice Bar experience
---
---
---