Stockholm, Sweden
Travel and Tourist Information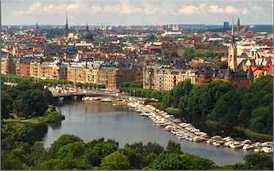 ABOVE: An aerial view of Stockholm, Sweden.
Our Stockholm travel guide is divided into a series of articles and pages:
City of Stockholm
Stockholm Hotels and Hostels
The first step in finding a place to stay in Stockholm is to pick the right neighborhood or island.
Stockholm Transportation
How to get into and around the Swedish capital, with detailed advice on airport transportation, subways, buses, trams, ferries, excursion boats, driving, and parking.
Ice Bar
For an Absolut-ly chilling experience in Stockholm, belly up to a bar made of ice blocks harvested from the Torne River in Northern Sweden.
Stockholm's Vasa Museum
The largest and most prestigious Swedish warship of the 18th Century sank on her maiden voyage in 1628. Today, the salvaged and restored ship is on display in a climate-controlled museum.
Skansen
The world's first open-air museum has more than 150 historic farm buildings, artisans' workshops, and houses from all over Sweden. It's a favorite destination of tourists and Stockholmers alike.
Christmas in Stockholm
A Santa Lucia parade, four Christmas markets within the city limits, and other events make Stockholm a delightful getaway destination for the holidays.
Sigtuna
Sigtuna is a pretty resort town on Lake Mälaren, about 35 miles from Stockholm and a short drive from Arlanda Airport.
Christmas in Sigtuna
Sweden's oldest medieval town has two Christmas markets, plenty of shops and restaurants, and delightful places to stay--all within easy reach of Stockholm and Arlanda Airport.
VennerbO B&B
Jacqueline Graf Ottestig and Lars-Åke Ottistig offer rooms, cottages, a summertime coffee shop, and other amenities on their farmstead 3km from Sigtuna.
---
---
---