German Christmas Markets: Lübeck
From: German Christmas Markets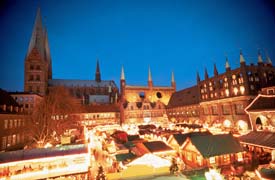 Lübeck Christmas markets

Lübeck, "the Queen of the Hanseatic League," is an historic city on the Baltic coast, about 45 minutes north of Hamburg. Its UNESCO-listed Altstadt has more than half a dozen Christmas markets that draw large numbers of tourists and shoppers from Scandinavia, who arrive by ferry in nearby Travemünde. (If you order a sausage or hot spiced wine in English, the locals will probably assume you're a visiting Swede or Finn.)

In the Innenstadt or city center, you'll find Weihnachtsmärkte on the Rathausmarkt (see photo at top of page), along Breite Strasse, and a few short blocks away in the Koberg square, where the Christmas market has a Ferris wheel and other amusement rides. Just outside the Innenstadt, a Christmas market by the railway station and the Linden Arcades is also open during a season that runs from late November until right before Christmas.
The St. Petri Kirche has a handicrafts market inside the church from late November until mid-December. (While you're there, allow time for an elevator ride up the church tower to enjoy an aerial view of the city.)

Another Christmas market in the Innenstadt, the Weihnachtsmärchenwald an der Marienkirche (inset photo at left) has a fairy-tale theme. Costumed performers enhance the old-fashioned atmosphere. It's next to the Marienkirche, behind Lübeck's medieval city hall.
The German Association for Women and Culture sponsors a handicrafts market inside the Heiligen-Geist-Hospital, a charitable institution that was founded in 1286. (The market is worth visiting for the medieval setting alone.) This market runs for a little over two weeks in late November and early December.
If you arrive after Christmas, you can visit the New Year's Market in Travemünde, Lübeck's beach resort and ferry port.

Tip: Lübeck has a busy calendar of musical performances and other special events during the Advent season, so you can easily come for a weekend or a week and find plenty of things to do when you're tired of Christmas shopping and sightseeing.
For more information about Lübeck and its Baltic resort of Travemünde, see:
Next page: Münster Christmas markets
---
---
Top photo: Lübeck Travemünde Tourismus / Sven-Erik Arndt.