Rothenburg Photos
From: Rothenburg ob der Tauber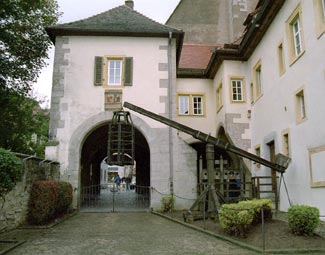 The Mittelalterliches Kriminalmuseum, or Medieval Crime Museum, is one of the most popular museums in Rothenburg ob der Tauber. Its 130 displays on four floors trace the development of European law over a 1,000-year period.
Some of the more Kriminalmuseum's dramatic exhibits include torture devices, executioners' implements, and bizarre punishments such as the "Donkey of Shame" for lazy pupils and the "Shame Flute" for bad musicians. The device in the photo above is a dunking cage that was used to punish bakers whose loaves were smaller than the legal minimum.
---
---
---
"Best of the Web"
- Forbes and The Washington Post
---
Advertisement:
---

Need a hotel in Germany?
Booking.com offers guaranteed lowest available rates at more than 33,000 hotels, guesthouses, and hostels throughout Germany.

Search for hotels, or pick a city