Wernigerode
Page 4
Continued from page 3
More Wernigerode photos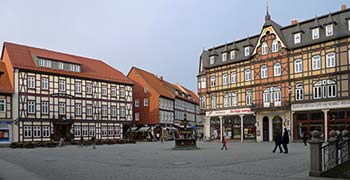 The Marktplatz (Market Square) is the center of Wernigrode's old town and shopping district.
---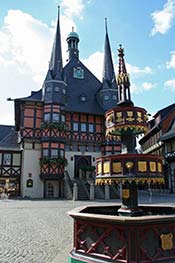 Behind the Brunnen, or fountain, is the Wernigerode Rathaus (Town Hall), which was completed in 1544. Guided walking tours depart from the tourist office, on the left side of the building, or from the fountain.
---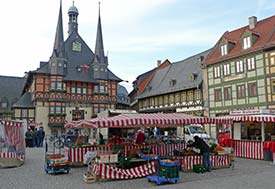 On market day, food vendors set up for business early in the Marktplatz. (When I took this photo at 9 o'clock on a Tuesday morning, a sausage vendor was already grilling Bratwürste.)
---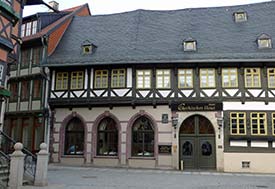 Of the many hotels in Wernigerode, the Travel Charme group's Hotel Gothisches Haus has one of the best settings: directly on the Marktplatz, where its modern facilities are concealed by an historic façade and roof. (The number of dormers is controlled by the local preservation authorities, and when the hotel added more dormers than the law permitted, citizen protests forced the hotel to remove the extra roof windows.)
---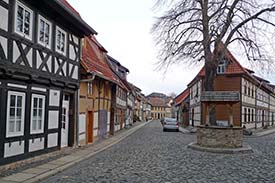 Just a block off the Marktplatz and the main shopping streets, you'll find quiet cobblestoned lanes with half-timbered houses like these.
---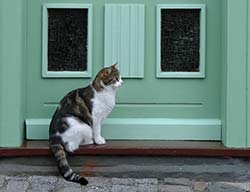 If you're lucky, you might meet a neighborhood resident.
---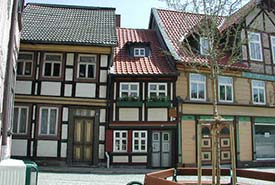 The smallest house (Das Kleinste Haus) in Wernigerode is on the Kochstrasse. The one-room house, which was built in the mid-18th Century, measures only 4.2 meters (less than 14 feet) high, including the attic. It has a width of 2.95 meters (9.7 feet) and a living area of 10 m² or less than 108 square feet.
---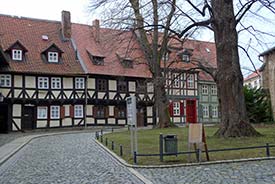 A considerably larger dwelling is the Gadenstedt Haus, which was built in the 16th Century on the Oberpfarrkirchof, facing the St. Sylvestrikirche (small photo).
---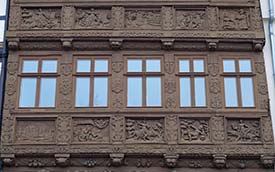 On the Breitestrasse, one of Wernigerode's main shopping streets, the Krummelsches Haus wows visitors with the woodcarving on its façade. The building, which dates to 1674, has carvings that represent life on the world's continents. Click here for a larger (82Kb) version of the photo, which will give you a more detailed view of the carvings.
---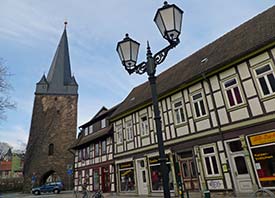 Wernigerode's walls were torn down in the 19th Century, but several of its historic gates remain--including the Westerntor (shown here) at the western edge of the old town.
Back to: Wernigerode - Introduction
---
---
---
2nd and 7th photos copyright © Wernigerode Tourismus.
"Best of the Web"
- Forbes and The Washington Post
---
---
---
---

Need a car in Europe?
Auto Europe guarantees the lowest rental rates for standard cars, sports cars, SUVs, luxury cars, chauffered sedans, and RVs. Its Web site also has driving information for 38 countries.
If you live outside the EU, a tax-free Renault or Peugeot tourist lease can be cheaper than renting. Minimum driver age is 18, there' s no upper age limit, and rates include insurance. See: Short-term car leasing.
---
Traveling by train?
Rail Europe
has free schedules, maps, and guides for 50+ European railroads.