Lübeck Photos
From: Lübeck, Germany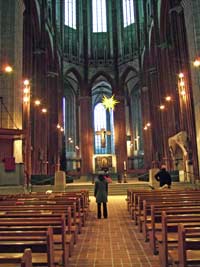 Marienkirche
The church's soaring nave reaches more than 38 meters or 125 feet at its highest point. At noon, carved figures on the astronomical clock (not shown) perform for visitors.
St. Mary's is home to the world's largest mechanical organ, which was installed in 1968. The Kemper tracker organ has five manuals, 100 voices, and 8,512 pipes in 161 ranks. If you're lucky--as we were--you'll hear it playing during a concert, a rehearsal, or a service. (The Marienkirche has a long organ-music tradition: Dieterich Buxtehude was organist at the church for most of his adult life.)
---
---
---
---
---
"Best of the Web"
- Forbes and The Washington Post
---
Advertisement:
---

Need a hotel in Germany?
Booking.com offers guaranteed lowest available rates at more than 33,000 hotels, guesthouses, and hostels throughout Germany.

Search for hotels, or pick a city