Lübeck Photos
From: Lübeck, Germany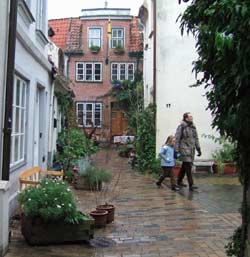 Pedestrian passages
With a good map or guidebook to Lübeck, you'll be able to find the unique pedestrian passages or Gänge that branch off certain streets in the Altstadt. Some of the entrances are well-hidden, so look carefully or you'll miss them.
A typical Gang is like a tiny residential neighborhood, with small apartments and cottages facing the brick- or stone-paved street.
---
---
---
---
---
"Best of the Web"
- Forbes and The Washington Post
---
Advertisement:
---

Need a hotel in Germany?
Booking.com offers guaranteed lowest available rates at more than 33,000 hotels, guesthouses, and hostels throughout Germany.

Search for hotels, or pick a city