Potsdam Hotels and Restaurants
From: Potsdam Travel Guide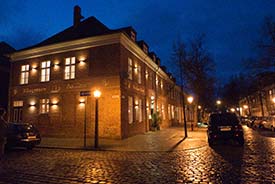 ABOVE: Zum Fliegenden Holländer ("To the Flying Dutchman") is a century-old restaurant and tavern in Potsdam's Dutch Quarter. INSET BELOW: A high-rise hotel from the GDR era.
Hotels
The Potsdam Tourism Service's Trip Planner brochure lists several dozen hotels and pensions, ranging from five-star luxury hotels such as the Relais & Chateaux Bayrisches Haus in the Potsdam Wildlife Park to affordable hotels and guesthouses in the city center. Holiday flats, cottages, and private rooms are also available.
During my visit to Potsdam, I stayed at the four-star Relaxa Schlosshotel Cecilienhof in the half-timbered royal country house where Churchill, Truman, and Stalin negotiated the postwar division of Germany at the Potsdam Conference of 1945. The cozy hotel is filled with history (a museum is on the premises), and it has a beautiful lakeside setting in the New Garden district north of the city center.
Potsdam also has a Youth Hostel and a Campingpark for budget travelers.

For help in finding accommodations in Potsdam, visit the tourist office or telephone +49 (0)331/27 55 80 between 9 a.m. and 7 p.m. Central European Time. Or check the Potsdam hotel listings of Venere, our booking partner, which offers discount rates on thousands of hotels in Europe.
Restaurants
Potsdam has a good selection of restaurants in all price ranges. The tourist office's Eating & Drinking pages will give you an idea of what to expect.
I had an excellent lunch in the old-fashioned dining room of the Relaxa Schlosshotel Cecilienhof and a pleasant dinner at Zum Fliegenden Holländer, an historic restaurant-tavern in the Dutch Quarter. (See the photo at the top of this page.)
Next page: Transportation
---
---
---
---
Search for more information on our site:
Custom Search
---