Harder Kulm, Interlaken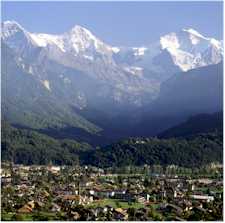 ABOVE: Interlaken and the Jungfrau Massif, as seen from a vantage point near Harder Kulm.
Interlaken, Switzerland is often used as a tourists' base camp for excursions to the Jungfraujoch, the Schilthorn, Schynigge Platte, and other scenic places in the Jungfrau Region of the Bernese Oberland. Many of these excursions are expensive, and all require at least half a day's time.
If you're short on time or money--or even if you aren't--don't miss the trip to Harder Kulm. Here's how Switzerland Tourism describes this delightful excursion at Interlaken's back door:
The scenic summit offers some of the most spectacular views in the remarkable Jungfrau Region: A bird's-eye view of Interlaken and the area nesting between Lake Brienz and Lake Thun. The two emerald-green lakes, surrounded by Alpine peaks. And the crowning glory--an uninterrupted view of the awe-inspiring peaks of the Eiger, Mönch, and Jungfrau.

The Harder has lost none of its magical attraction since composer Felix Mendelssohn set the words of poet Eichendorff to music: "O magnificent forest, who planted you there, so high above?" Over 100 years ago, Mendelssohn reached the sumit by foot, through the same woods along the very same paths which are still in use today. Visitors can now take it a lot easier and make the trip to the top by nostalgic funicular railway.
Next Page > Restaurant, Web link > Page 1, 2
Photo Copyright © Switzerland Tourism. Used by permission.