Interlaken
Tourist Information and Travel Guide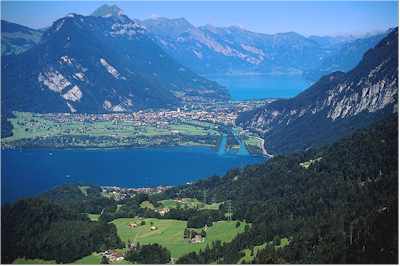 ABOVE: Interlaken lies between Lake Thun (foreground) and Lake Brienz in the Bernese Oberland.
by Durant Imboden
I've always had a soft spot in my heart for Interlaken, and not just because my ancestors lived in the neighborhood. Rather, it's because this overgrown Swiss village has been the tourist hub of the Bernese Oberland for nearly 170 years without turning into a Las Vegas, Blackpool, or Torremolinos. You'll still find cows and sheep on the outskirts, and there are few high-rises, motels, and fast-food joints to spoil the landscape.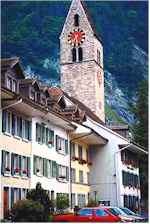 Snobs might claim that Interlaken is a tourist town, but so what? Tourism has long played an important role in Swiss history, and the visitor who contemplates the Jungfrau Massif from the Matten (the meadow in front of the town) is sharing in a tradition that dates back to the early 19th Century.
You needn't stay in Interlaken to enjoy its convenience as a tourist center. Just as all roads once led to Rome, most rail lines in this part of Switzerland lead to Interlaken. This makes it easy to take day trips from just about any resort in the area, especially if you have a Swiss Pass or Berner Oberland Pass that allows free or reduced-price travel by train, bus, boat, funicular, cable car, or chair lift.
Here are just a few of the things you'll find to do in or near Interlaken:
Lake steamer cruises. Take a boat to Brienz, a picturesque woodcarvers' town at the far end of the wild and scenic Brienzersee. Allow time for a morning or afternoon at the Swiss Open-Air Museum at Ballenberg, near Brienz. Or catch a steamer to Thun, where Lake Thun feeds into the River Aare, and enjoy the views from the towers of its medieval castle.
Mountain excursions. The Jungfraujoch Railway is Europe's highest. It takes you through Alpine meadows, then plunges into a stone tunnel on its ascent to permanent snowfields and spectacular views. Other (and less expensive) excursions include the Schilthorn aerial cable car, the Schynigge Platte cogwheel railway, the Brienz-Rothorn-Bahn with its antique steam-driven locomotives, and funiculars such as Harderbahn, which carries tourists up Interlaken's "Hausberg."
Hikes. Whether you're an experienced trekker or a casual walker, you'll find a plethora of well-marked trails in Interlaken and nearby resorts. (Note: Paved footpaths along Lake Thun and Lake Brienz are suitable for wheelchairs, strollers, and baby carriages.) Switzerland for Visitors has a hiking article worth reading.
City, town, and village sightseeing. When the weather turns dreary, head for Bern (the Swiss capital), where you can shop in arcaded passages, visit museums, and enjoy other activities that don't require an umbrella and galoshes. Even when it's sunny, you should allow time to visit Thun, Brienz, and some of the mountain resorts and villages in the area. All are easy to reach by train, bus, and/or boat.
Next page: Excursions and resorts nearby
---
---
---
---