Europe > Switzerland > Interlaken
Interlaken
Tourist Information and Travel Guide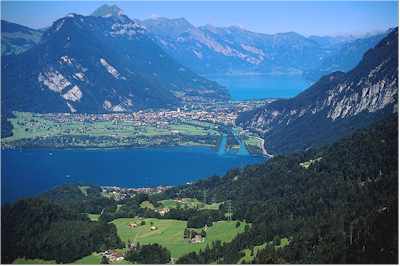 ABOVE: Interlaken lies between Lake Thun (foreground) and Lake Brienz in the Bernese Oberland.
by Durant Imboden
I've always had a soft spot in my heart for Interlaken, and not just because my ancestors lived in the neighborhood. Rather, it's because this overgrown Swiss village has been the tourist hub of the Bernese Oberland for nearly 170 years without turning into a Las Vegas, Blackpool, or Torremolinos. You'll still find cows and sheep on the outskirts, and there are few high-rises, motels, and fast-food joints to spoil the landscape.
Snobs might claim that Interlaken is a tourist town, but so what? Tourism has long played an important role in Swiss history, and the visitor who contemplates the Jungfrau Massif from the Matten (the meadow in front of the town) is sharing in a tradition that dates back to the early 19th Century.
You needn't stay in Interlaken to enjoy its convenience as a tourist center. Just as all roads once led to Rome, most rail lines in this part of Switzerland lead to Interlaken. This makes it easy to take day trips from just about any resort in the area, especially if you have a Swiss Pass or Berner Oberland Pass that allows free or reduced-price travel by train, bus, boat, funicular, cable car, or chair lift.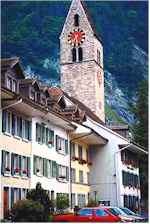 Here are just a few of the things you'll find to do in or near Interlaken:
Lake steamer cruises. Take a boat to Brienz, a picturesque woodcarvers' town at the far end of the wild and scenic Brienzersee. Allow time for a morning or afternoon at the Swiss Open-Air Museum at Ballenberg, near Brienz. Or catch a steamer to Thun, where Lake Thun feeds into the River Aare, and enjoy the views from the towers of its medieval castle.
Mountain excursions. The Jungfraujoch Railway is Europe's highest. It takes you through Alpine meadows, then plunges into a stone tunnel on its ascent to permanent snowfields and spectacular views.
Other (and less expensive) excursions include the Schilthorn aerial cable car, the Schynigge Platte cogwheel railway, the Brienz-Rothorn-Bahn with its antique steam-driven locomotives, and funiculars such as Harderbahn, which carries tourists up Interlaken's "Hausberg."
Hikes. Whether you're an experienced trekker or a casual walker, you'll find a plethora of well-marked trails in Interlaken and nearby resorts. (Note: Paved footpaths along Lake Thun and Lake Brienz are suitable for wheelchairs, strollers, and baby carriages.)
City, town, and village sightseeing. When the weather turns dreary, head for Bern (the Swiss capital), where you can shop in arcaded passages, visit museums, and enjoy other activities that don't require an umbrella and galoshes. Even when it's sunny, you should allow time to visit Thun, Brienz, and some of the mountain resorts and villages in the area. All are easy to reach by train, bus, and/or boat.
---
Europe for Visitors articles

ABOVE: View the Eiger, Mönch, and Jungfrau from Interlaken, or get a bird's-eye view with a mountain excursion by cogwheel railway, funicular, or cable car.
Mountain excursions
Firstbahnen Grindelwald
This aerial cableway uses small gondolas to transport hikers and tourists up the mountainside. You'll enjoy spectacular views on the ride up and from the upper station, where you can have a meal or snack before hiking or riding back down.
Harder Kulm
The affordable 12-minute funicular ride starts near Interlaken Ost station. From the upper platform at 4,337 feet, you can go hiking and enjoy the views of Lake Brienz and Lake Thun.
Jungfraujoch Railway
Europe's most spectacular mountain railway is high in elevation, popularity, and price.
Jungfraujoch Ice Palace
Explore a tourist attraction carved inside Europe's longest glacier.
Niesenbahn (Bernese Oberland)
Ride a 90-year-old funicular to spectacular views, hikes, and a mountain inn overlooking Lake Thun.
Stockhornbahn
Ride a cable car, hike a nature path, or try a 100m bungee jump on the Stockhorn, near Lake Thun, where you can also enjoy a meal or rent a room on the summit.
Resort towns near Interlaken
Beatenberg
On a mountainside just minutes from Interlaken, you'll find an unspoiled paradise for hikers and skiers.
Brienz
This pretty town near Interlaken has woodcarvers, an antique steam cogwheel railway, and the Swiss Open-Air Museum. It's easy to reach by train or, better yet, by lake steamer.
Gimmelwald
Is this bucolic village really off the beaten path? Many fans of the Rick Steves Europe Through the Back Door guidebooks think so, but Gimmelwald's backwoods charm has attracted tourists (and travel writers) for a century or more.
Lauterbrunnen
Ride the train or drive to a valley with 72 waterfalls--including the Trümmelbach Falls, which you reach by descending into a gorge by funicular.
Ringgenberg
Interlaken's lakeside neighbor is just minutes away by train, bus, car, footpath, or lake steamer.
Wengen
You won't find any cars at this mountain resort near Interlaken, but you will find the Jungfrau, the Eiger, and some of the best hiking in the Swiss Alps. The setting is unbeatable: Wengen lies on a steep shelf overlooking the Lauterbrunnen Valley. Accommodations range from grand hotels to youth hostels.
Mürren (winter resort report)
There are no cars here--just plenty of great hiking and winter skiing. You can ascend the Schilthorn via aerial cablecar. (The revolving restaurant at the top was featured in a James Bond movie, On Her Majesty's Secret Service.)
Exercise/Sport
International Jungfrau-Marathon
Move those cows out of the way, because 2,500 runners chase medals in the Bernese Oberland every September.
Interlaken: White-Water Rafting
Even a weekend adventurer can enjoy a white-knuckle experience on white water.
City excursions
Thun
This medieval city on Lake Thun is 26 minutes from Interlaken by train or about two hours by lake steamer. (It's also a stop on the train route to Bern.) Thun has an unusual main shopping street with shops on two levels. Its castle offers great tower views of the town and lake.
Bear Pits of Bern
The Swiss capital is 48 minutes from Interlaken by train. The famous bear pits are a little depressing, but there are plenty of other things to do in Bern--most notably, exploring and shopping in the arcaded passages of the medieval downtown area.
Bern's Münster (Cathedral)
After you've seen the carvings and stained-glass windows, climb the tower for a panoramic view of Switzerland's capital city.
Marzili, Bern
In the summertime, grab your bathing suit and catch the funicular to a riverside swimming area below the Parliament building..
Swiss Parliament, Bern
When it's raining outside, the Federal Assembly chamber offers the best alpine view in Switzerland.
---
External Web links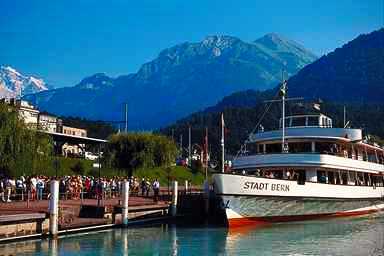 ABOVE: Boats offer excursions and point-to-point transportation on Lake Thun and Lake Brienz.
Tourism
Interlaken Tourism
The city's official tourist site has a plethora of information on activities, excursions, and more.
Hotels, hostels, and vacation rentals
Booking.com: Interlaken our partner
Our Europe-based hotel partner has a huge selection of properties in and around Interlaken. Listings include photos, ratings, and reviews by paying guests, and the reservations process is secure.
Transportation
Schilthorn (Piz Gloria)
This revolving restaurant and observation deck was featured in the James Bond movie, On Her Majesty's Secret Service. It offers spectacular views and is reached by cablecar from Stechelberg, near Lauterbrunnen.
Schynige Platte
Great mountain views, and not too outrageously expensive. Accessible by cogwheel railway from Wilderswil.
Attractions and activities
Kursaal Interlaken
Interlaken's congress center has a low-stakes casino, a restaurant, space for weddings, afternoon tea dances, concerts, and other events.
Viator: Interlaken our partner
Our activities and tours partner is your gateway to experiences that range from mountain transportation to bungy jumps and hang gliding.