Neuchâtel, Switzerland
Page 2
Continued from page 2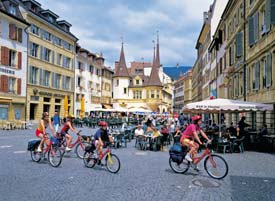 ABOVE: The Place des Halles or Market Square. INSET BELOW: A sailboat on Lake Neuchâtel.
Sightseeing in Neuchâtel
When you arrive in Neuchâtel, go to the local tourist office (see this articles' Tourist Information page) and get a copy of Neuchâtel à pied - zu Fuss - on foot. The illustrated brochure has a map of the town center with 19 numbers that are keyed to a walking tour of the city center and its lakeside promenade. Some of the more important sights include:
The Hôtel de Ville, or City Hall, which was built from 1784-1790. Go inside to visit the exhibits on the ground floor, most notably the model of the 18th Century town and its harbor.
The Fontaine de la Justice (1545-1547), the Fontaine du Banneret (1581), and the Fontaine du Griffon (1664), which have been restored to their original glory.
The Place des Halles or Market Square (see photo at top of page), which is surrounded by 18th Century houses and has a public market on Tuesday, Thursday, and Saturday mornings.
The Château, or Castle, which was begun in the 12th Century. (Free guided tours are available from April through September.)
The Collégiale or Collegiate Church, which was consecrated in 1276. The church, which has been protestant since the Reformation, has a remarkable cenotaph from 1372 that portrays the the Counts of Neuchâtel in 15 carved and painted statues.
The medieval Tour des Prisons, or Prison Tower, which is open from 6 a.m. to 6 p.m. between April 1 and September 30.
You can cover most of the old town in several hours, but a full day will give you time to enjoy Neuchâtel without rushing, to have a pleasant lunch, and to visit some of the local museums, which are described on our Neuchâtel Tourist Information page.
Tips:
If you're a fan of public transportation, try the new Fun'ambule funicular from the railroad station to the lake. Better yet, take time to ride the Funicular Ecluse. This 1890-vintage funicular runs from the Rue de l'Ecluse to the Cret du Plan at 598 meters or 1962 feet above sea level, where you can enjoy views of the lake and the town.
Excursions

The Lake Neuchâtel and Morat Navigation Company operates excursion boats from spring through fall, with local cruises and longer trips to the nearby Murtensee and Bielersee. (You can travel free with a Swiss Pass or Swiss Boat Pass.)
You can also tour villages along the lake by car, bicycle, or walking path. For example, you could rent a bike at the Neuchâtel railroad station, ride along the lakeshore, and return by boat later in the day. For excursion ideas, visit the Watch Valley Web site or inquire at the tourist office when you arrive.
Next page: Tourist information
---
---
---
---
Top photo copyright © Tourisme Neuchâtel and SNTO, www.swiss-image.ch.
Inset photo copyright © Tourisme Neuchâtel.