Venice Maps
From: Venice Links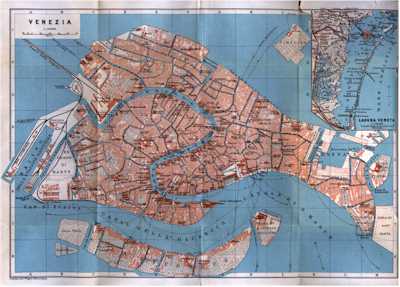 ABOVE: A scanned map from the 1913 edition of Karl Baedeker's Northern Italy Handbook for Travelers. You can download a full-size, printable 788Kb version of the map if you have a fast Internet connection.
Maps and street atlases
Venice Map veniceforvisitors.com
Zoom in or out to view street maps of Venice and the islands of the lagoon, courtesy of Google Maps. Also see our Venice Satellite Photo with descriptions of major landmarks.
Lonely Planet: Venice Map
This map isn't detailed, but it shows where the most popular tourist sites are located.
Also see:
Venice Street Signs veniceforvisitors.com
Local place names don't always correspond to map and guidebook spellings, so know how to interpret signs in Venetian dialect.
---
---