Europe > Cruises > UK waterways cruises > Coastal cruises
British Coastal, Canal, and River Cruises
Page 2
Continued from page 1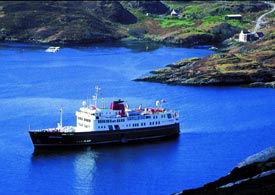 ABOVE: The Hebridean Princess. INSET BELOW: The Majestic Line's Glen Tarsan and the THV Patricia, a lighthouse-service ship that accepts passengers.
Coastal cruises
Many conventional cruise ships offer voyages around the British Isles, but for a more up-close-and-personal experience, you might want to try a specialty line.
Hebridean Island Cruises is perhaps the best-known British small-ship line. It has one vessel, the 49-passenger Hebridean Princess, which was the Caledonian MacBrayne ferry Columba before being gutted and refitted as a luxury cruise ship in 1989.
Most of Hebridean's cruises are four- to nine-night sailings from Oban, on the West Coast of Scotland, with trips along the Scottish Coast, to the Western Isles, and (occasionally) to Norway.

The Majestic Line offers an even smaller-ship experience. Its wooden vessels, Glen Massan and Glen Tarsan, are converted fishing trawlers that carry only 11 passengers each. Cruises range from three to six nights, with a focus on scenery and wildlife in the inlets and islands of Scotland's West Coast.

For a different type of cruise, try THV Patricia, which tends offshore lighthouses, maintains navigational boys, and marks wrecks along the coasts of England, Wales, and the Channel Islands. The ship has six double-bedded cabins with ensuite bathrooms and other mod cons (including connections for laptop computers).
Although Patricia is based in Harwich, you can join the ship wherever it's working, subject to weather conditions and changes in schedule. (You may be taken to the ship by workboat, since most of its duties are performed offshore.)
Next page: Narrowboat cruises
---
---
Top photo copyright © Hebridean Island Cruises.
1st inset photo copyright © The Majestic Line.
2nd inset photo copyright © Strand Travel.