Europe > Cruises > UK waterways cruises > Barges
British Coastal, Canal, and River Cruises
Page 4
Continued from page 3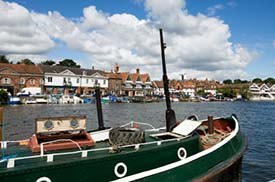 ABOVE: Henley-on-Thames, which is on the standard itinerary of Magna Carta (first inset photo below). SECOND INSET: The Caledonian Canal, home of the Scottish Highlander hotel barge.
Barge cruises
A hotel barge could be described as "like a narrowboat, but bigger with more deck space." Most wide-beam barges are converted cargo carriers from the early to mid-20th Century, and they differ from narrowboats in two significant ways:
They're more spacious, with larger cabins, public rooms, and sundecks than you'd find on a narrowboat.
Because of their width, they cruise only on rivers, lochs, and larger shipping canals.
In other ways, hotel barges offer a cruising experience that's similar to a narrowboat's: Barges meander slowly through inland waterways, they cater to a small number of guests (typically eight to 12), they offer plenty of opportunities to hop off and enjoy villages or pubs along the towpath, and passengers are treated to gourmet meals prepared by an onboard chef.
The best-known British barge line is European Waterways Ltd, which is headquartered in Wraysbury, England. The company's chairman, Derek Banks, purchased his first Dutch cargo carrier for conversion into the hotel barge Anjodi more than 30 years ago. European Waterways currently offers luxury barge-cruise holidays in England, Scotland, Ireland, France, Belgium, Germany, Holland, and Italy.

In England, European Waterways markets six-night cruises on Magna Carta, which runs between Henley-on-Thames and Hampton Court Palace for most of the cruising season with additional cruises organized around themes such as antiques, gardens, West End theatre, and Christmas. The luxury barge accommodates eight guests in four twin or double staterooms with ensuite facilities.

Farther north, Scottish Highlander cruises the Caledonian Canal between Fort William and Inverness. The standard six-night itinerary includes castle visits, cruising in Loch Ness, and plenty of Highland scenery. Christmas, New Year's, and specialty charter cruises are also available.
Steve and Steph Furniss own Tranquil Rose, a nine-passenger barge that cruises on the Thames, the Grand Union Canal, the Kennet & Avon Canal, and other English waterways from April through October. Most cruises are seven nights, with a handful of nine-night itineraries. Whole-boat charters are available.
Lady Teal, a purpose-built luxury "boutique hotel boat," cruises the canals of Yorkshire, Lancashire, and other parts of Northern England with Nick at the helm and Gina preparing the food. Lady Teal has two double staterooms and one single. Fares include secure parking and return to your departure point by chauffeured car.
To get an idea of what to expect from a luxury hotel-barge cruise, read our illustrated barge cruise review of La Renaissance, the flagship of the European Waterways fleet in France.
Note: Cruises on hotel barges (as opposed to English-style narrowboats) are less common in Britain than they are on the European mainland for a simple reason: Continental canals were modernized and widened in the 19th Century to accommodate larger ships and barges, while the narrow British canals were mostly left at their original width as railroads became the UK's dominant mode of freight transportation during the Industrial Era.
Back to: Introduction
---
---
Photo copyright © Go Barging.