Europe > Cruises > River, barge, & canal Cruises
River, Barge, and Canal Cruises in Europe
Articles Index
Also see: European Cruise Guide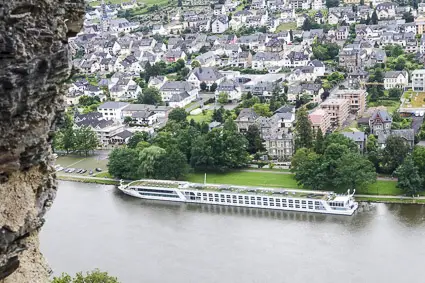 ABOVE: Emerald Star, as seen from Burg Landshut (a ruined fortress above Bernkastel-Kues and the Moselle River in Germany).
River and Barge Cruise Reviews
Emerald Star from Nuremberg to Trier
We joined Emerald Waterways for a cruise on one of its ultramodern "Star-Ships" via the Main-Danube Canal and the Main, Rhine, and Moselle Rivers in Germany. Our review is accompanied by a day-by-day photo diary.
Uniworld's La Venezia (formerly River Countess): Venice and the Venetian Lagoon
Our illustrated review describes a cruise that spends several days in Venice and nearby ports, with shore excursions to Padua, Bologna or Ferrara, Ravenna, and Verona included in the fare.
La Bella Vita: Po River Cruise
Cruise between Venice and Mantua by way of Chioggia, Ferrara, and other ports along the Venetian Lagoon and the Po River. La Bella Vita, a 20-passenger hotel barge from European Waterways Ltd., has the ambience of a tiny ship. (Our in-depth review includes a day-by-day photo cruise diary.)
Uniworld's River Baroness: Paris and Normandy
Our 10-page review and accompanying photo gallery describe a week-long roundtrip cruise from Paris, with visits to Rouen, Honfleur, Monet's Giverny, and the D-Day landing beaches.
A Barge Cruise in France
Our 8-page article on one of Europe's most comfortable hotel barges is accompanied by a day-by-day barge cruise photo gallery. (The barge, La Renaissance, offers pick-up and drop-off service in Paris at no extra cost.)
Viking River Cruises: Southern France
Follow the MS Maribelle from Chalon-sur-Saône to Avignon, with stops in Lyon, Arles, and other inland ports. Our 192-page report includes a cruise review and photo gallery.
Peter Deilmann's Casanova: Venice and the Venetian Lagoon
We've kept this archived review from 20o4 online for the many loyal fans of Peter Deilmann Reederei, a luxury brand that exited European river cruises in 2009.
Articles
Seine River Cruises from Paris Paris for Visitors
Spend a week exploring the Seine and Normandy by ship.
Paris River Cruise Ports Paris for Visitors
Central Paris has two adjoining ports for river vessels, and they're easy to reach on foot or by public transportation.
River Cruises in the South of France
Follow the sun and practice your French with a 7-night Rhône and Saône river cruise aboard a Viking or Uniworld ship.
Barge Cruises & Canal Boats
Explore Europe's waterways in luxury, or rent a boat and pilot it yourself.
Coastal, Canal, and River Cruises in Britain
Tour England and Scotland by skippered steamer, narrowboat, or hotel barge--or cruise the English and Welsh coast aboard an offshore lighthouse tender.
Nuremberg Cruise Port
How to reach your ship from Nuremberg, Germany's airport and city center (or vice versa), using public transportation. Our article includes illustrated step-by-step directions, and it also tells how to reach the suburb of Erlangen (which some cruise lines use for itineraries that begin or end in Nuremberg).
Book review: Insight Cruise Guides
Or illustrated review covers Insight's Great River Cruises: Europe and the Nile and Mediterranean Cruises.