Paris > Sightseeing > Seine river cruises
Seine River Cruises from Paris
From a pier near the Eiffel Tower, you can take a river vessel down the Seine--with a week's worth of sightseeing along the way.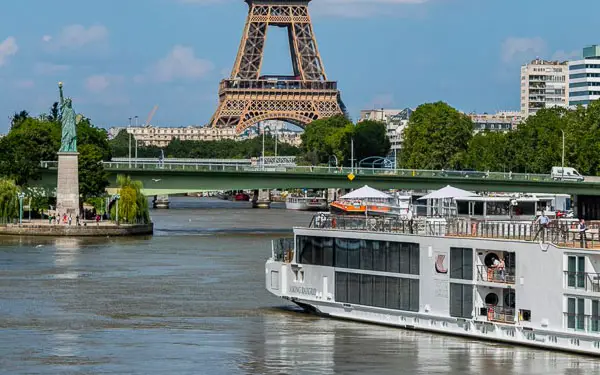 ---
The popularity of river cruising has grown exponentially in recent years. Whether on large rivers like the Danube and the Rhine or smaller waterways such as the Guadalquivir and the Douro, small flat-topped ships that carry 100 to 200 passengers offer a blend of river scenery and shoreside sightseeing with a minimum of fuss for the traveler.
A river cruise on the Seine can be especially tempting, since it's easy to combine a cruise of up to seven nights with an independent stay in Paris. (Some lines offer "cruise tours" that bundle a week-long cruise with a multi-day land tour by bus, but such tours are beyond the scope of this article.)
---
What to expect from a Seine river cruise: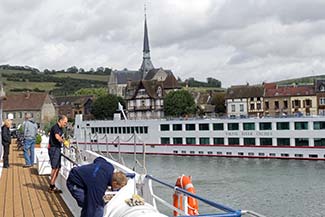 A typical Seine river vessel has three decks: a lower deck with cabins, a middle deck with larger staterooms and public rooms, and a sundeck for sightseeing in the fresh air. The ship's profile is much different from that of an oceangoing ship, because it has to fit through locks and under bridges.
As the ship cruises along the river, you can enjoy the sights from the open deck, from a large public lounge, or from your cabin's window or balcony.
Once or twice a day, the ship will moor at a port--either for a few hours or overnight. You'll be offered local walking tours and/or shore excursions on tour buses. Overnight stays generally include plenty of free time.
Your cruise fare will nearly always include accommodation, meals, sightseeing tours, and self-service coffee, tea, water, and possibly juice in the lounge (where you may also find a cookie jar or other snacks). Wine at meals may be included, but you'll usually have to pay for alcoholic drinks and soft drinks in the lounge.
Please note:
A river cruise can feel like a group tour at times, thanks to the sightseeing component. Still, the benefits can outweigh the downsides, even for people who (like us) normally dislike group travel. A river cruise makes it easy to reach places such as the D-Day landing beaches and military cemeteries that might be inconvenient to visit on your own.

Fares aren't cheap, but it's worth remembering that you're paying for transportation and sightseeing (not just cruising).

For an illustrated account of a river cruise that we took on the Seine a number of years ago, see our Uniworld cruise review.
---
Ports and excursions: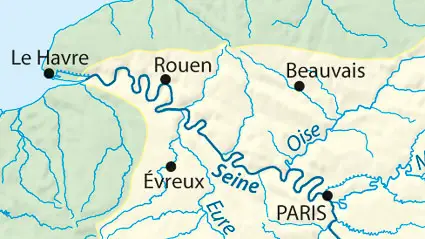 Cruise itineraries on the Seine vary quite a bit, and not all ships visit all ports or excursion sites. Below are a few of the most popular destinations along the river between Paris and Le Havre. (For detailed itineraries, visit the cruise lines' Web sites.)
Most Seine river cruises are for seven nights (usually sold as "eight days"), but CroisiEurope also has three-, four-, and five-night sailings. You can compare cruise lines and intineraries by using the links in the "River Cruise Lines" section below.
Cruises typically include a night or two in Paris with a bus tour of the city during the day. (During our Uniworld cruise, we skipped the bus tour and enjoyed Paris on our own.)
Here's a sampling of places that you may visit during your cruise:
---
Rouen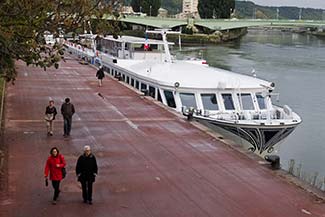 Rouen, a city of 500,000, is a jumping-off point for excursions to the D-Day beaches (see below) and other places of interest.
The "city of 100 bell towers" is also an historic destination in its own right, with attractions such as half-timbered houses, France's tallest Cathedral, and the 16th Century ossuary of Aître Saint-Maclou with its lovely courtyard and creepy decor.
The modern Joan of Arc church is a popular stop on many walking itineraries.
---
WWII landing beaches and cemeteries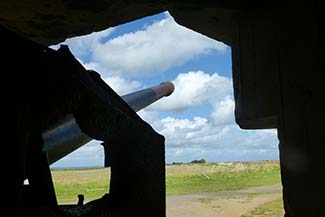 Most Seine river cruises (or at least those geared to English-speaking travelers) include day trips to the D-Day landing beaches where thousands of Allied soldiers fought and, in many cases, lost their lives during June, 1944.
Typically, you'll depart in the morning from Rouen (see above) for a 2-1/2-hour  bus ride to the Normandy coast. You'll then spend several hours exploring the beaches, touring nearby German gun emplacements, and visiting the D-Day Museum in Arromanches.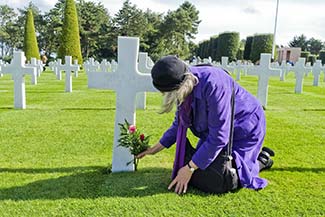 You're also likely to visit a nearby military cemetery. The photo above shows the Normandy American Cemetery and Memorial at Colleville-sur-Mer, where 9,400 American soldiers are interred.
---
Giverny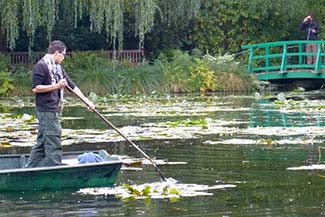 The impeccably maintained house and gardens of Claude Monet, the patriarch of impressionism, draw more than half  a million visitors per year. Giverny is a short trip from Paris by commuter train and shuttle bus (see our illustrated Giverny article), but it's also popular with river cruisers.
Your river vessel will normally moor at Vernon, on the Seine, with a 15-minute coach ride to Giverny. If you don't dawdle too longs in the gardens, you may have time to explore the small village outside the entrance (which is well-equipped with shops, cafes, and restaurants).
---
Honfleur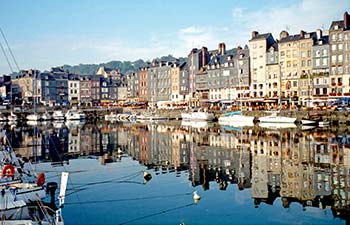 Although Honfleur is the quintessential tourist town, it's also an historic port with a lovely old harbor and plenty to keep you busy for a few hours.
If your cruise includes Honfleur, you'll probably get there by bus from Caudebec-en-Caux or Le Havre. (Ships of CroisiEurope, a French-owned cruise line, actually moor in Honfleur.)
---
Other small ports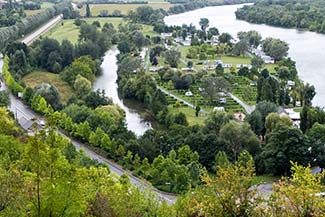 Seine River cruises normally include sightseeing stops or overnight visits to small ports such as Les Andelys and Caudebec-en-Caux, which are shown in the photos above.
Although these towns are often used as staging areas for half- or full-day excursions, they can be very enjoyable on their own. (Many of these ports are attractive, out-of-the way towns that you might miss if you were just driving around Normandy.)
---
When to go: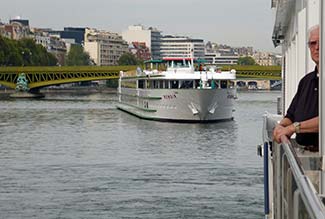 The Paris-to-Normandy cruise season runs from April to November, though schedules and departure frequencies vary by cruise line. (Viking, for example, has multiple ships and sailings each week, while most lines operate one cruise per week--usually with weekend departures.)
You're likely to get the best fares in the off season, but if weather is more important to you than price, we suggest examining the monthly climate data for Paris at Weatherbase.com before booking.
---
Where cruises depart and arrive in Paris: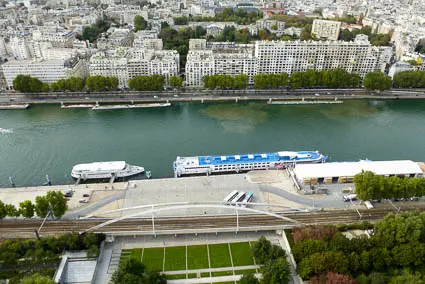 Seine river cruises from central Paris use quays that are within walking distance of the Eiffel Tower.
For details, see our illustrated guide to Paris River Cruise Ports.
---
The following lines offer river cruises from Paris for English-speaking travelers.
---
---