Sea Cloud Cruises:
River Cloud, River Cloud II
From: European Cruise Guide
---
---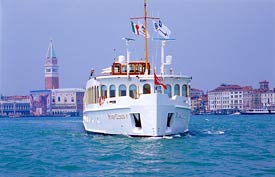 ABOVE: The River Cloud II in Venice, Italy.
---
Archived page
(Sea Cloud Cruises no longer offers river cruises to the public.)
---
Sea Cloud Cruises is an upscale German line with one vessel on Europe's inland waterways: the River Cloud. The ship is meant to evoke the "nostalgic charm of the 1930s" and offers some of the most luxurious river accommodations afloat. Unfortunately, River Cloud is on a long-term charter and won't be available for individual bookings in 2016. (The company's other river ship, River Cloud II, has been sold to Grand Circle Cruises.)
Americans represent a majority of Sea Cloud's international clientele, and all service staff speak English.
The company also operates two classic sailing ships, the Sea Cloud and Sea Cloud II, which cruise in the Mediterranean and Northern Europe from spring through fall.
Cruise line's Web site:
---
---