Windstar Cruises
From: European Cruise Guide
---
---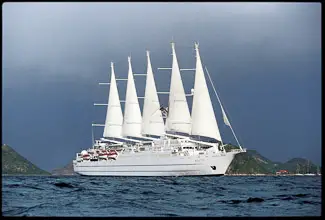 ABOVE: Wind Surf at sea. INSET BELOW: A view of Wind Star's bowsprit, and Star Pride in Greece's Corinth Canal.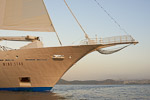 Windstar Cruises focuses on the premium end of the cruise market with three unique "motor-sail-yachts": the 308-passenger Wind Surf (originally the Club Med I) and the more intimate Wind Star and Wind Spirit, which carry 148 guests each. Each vessel combines the atmosphere of a large sailing yacht with the comforts of a luxury cruise ship.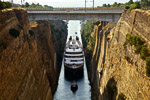 In the last couple of years, Windstar has acquired three small, luxurious motorships from Seabourn Cruises (now renamed the Star Pride, Star Breeze, and Star Legend).
The new ships have allowed Windstar to expand its cruising schedule: In 2019, for example, Windstar is offering scores of European cruises, including two eastbound repositioning cruises from Bridgetown to Lisbon or Barcelona. (Most of Windstar's European cruises are in the Mediterranean and other warm-weather seas, with a few outliers such as Copenhagen to Reykjavik and Dublin to Edinburgh.)
Cruise line's Web site:
Cruise review:
---
---
Photos copyright © Windstar Cruises.