Wind Surf Cruise Review
Windstar Cruises, Marseilles - Rome
Archived Review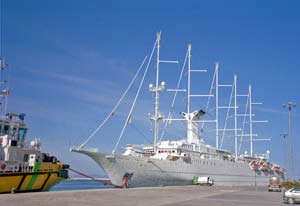 ABOVE: Windstar's Wind Surf at the pier in Trapani, Sicily. INSET BELOW: The Wind Surf under sail.

Dozens of cruise lines offer hundreds of itineraries in the Mediterranean each year, and it can be hard to tell one company or vessel from another--especially in the megaship era, when a rockclimbing wall or tennis court on the sun deck may be the easiest way to distinguish the Behemoth from the Bigfoot.
Fortunately for those prefer ships to seagoing resorts--or who enjoy ships of all sizes (as I do), but would like to try something different--Windstar Cruises offers a cruising experience that won't be confused with a trip to Disney World or Seven Flags over Dubai.
Windstar's fleet of motor-sail yachts combine the comforts of modern luxury cruising with a sailing aesthetic. Just as important, all of Windstar's yachts are small enough to visit all but the tiniest Mediterranean ports without overcrowding the local streets, cafés, and shops.
In May, 2006, I enjoyed a Mediterranean cruise aboard the MSY Wind Surf, which carried 296 passengers on a 7-day voyage from Marseilles to Rome. In this cruise review and the accompanying photo gallery, I'll describe the ship, the cruise, and what it was like to visit half a dozen French and Italian ports as a Windstar Cruises passenger.