Spitsbergen Cruise Photos
From: MS Nordstjernen cruise review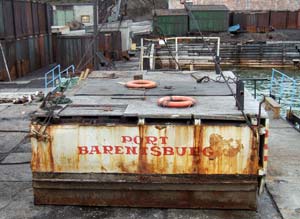 Barentsburg
As we drew closer to the pier, a rusting sign on the quay welcomed us to the Port of Barentsburg.
Barentsburg is the second-largest community in Svalbard with about 800 mostly Russian and Ukrainian residents. The settlement owes its current existence to the Svalbard Treaty, which--among other things--gives all signators the right to exploit resources (including coal) in the Arctic territory of Svalbard.
The owner of the company town, Arktikugol, has 23 mining claims in Svalbard and has extracting coal from underground mines in the territory since 1932. At last report, Barentsburg was the only Russian mine still operating in Svalbard; the Grumant mine shut down in 1961, and Pyramide ceased operations in 1998.
Spitsbergen Cruise - Photo Location Index
---
---
---