Spitsbergen Cruise
MS Nordstjernen, Page 2
Continued from page 1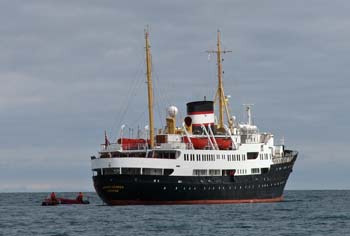 ABOVE: MS Nordstjernen entered service in 1956 as a TFDS Hurtigruten coastal steamer in Norway. INSET BELOW: Nordstjernen's vintage company logo, name painted on bow, and fantail.
The ship: MS Nordstjernen

Hurtigruten's Nordstjernen is a tiny ship by today's standards, with only 114 berths in 54 cabins and a length of 80.77 meters or 265 feet. With an internal volume of just 2,191 gross registered tons, the MS Nordstjernen is a tugboat compared to current megaships like Cunard's Queen Mary 2 (151,400 grt) or Royal Caribbean's Oasis of the Seas (225,282 grt).

But coziness is only part of the Nordstjernen's charm. It also has an old-fashioned maritime character that you won't find on today's ships. The hull, for example, is curved from bow to stern and from the lower deck railings to the waterline.
Look closely, and you'll see that the hull is welded from steel plates that are heavy enough to withstand pressure from Arctic ice. Walk on the exposed decks, and you'll see open lifeboats, ventilation funnels, masts not unlike those of a sailing ship, and solid planks of varnished wood.

The Nordstjernen's vintage appeal carries over to the interior, where polished wainscoting and traditional step-up-and-over watertight doors are reminiscent of ocean liners from the 1950s (when the Nordstjernen entered service on Hurtigruten's year-round route between Bergen and Norway's North Cape).
In other ways, the MS Nordstjernen's old-fashioned looks are deceptive: The vessel underwent major overhauls in the 1980s and again in 2000, when it was refitted as an expedition ship. It's well-equipped with modern features such as vacuum toilets, GPS navigation, satellite telephony, and PolarCirkel boats for shore landings.
About seasickness: The Nordstjernen was built before stabilizers were common, but its hull and low profile were designed for year-round service in northern seas. Most of the time during our cruise, the ship's motions were undetectable. It did roll and pitch slowly when we encountered swells in the open ocean, and Hurtigruten recommends that passengers bring medication if they're prone to motion sickness. However, a guide told me that Arctic waters are usually fairly calm during the summer, and I didn't see anyone get seasick on our voyage.
Age and health concerns: On our voyage, quite a few of the passengers appeared to be in their 70s and 80s, and one or two used canes. If you're in good health, are used to walking, and don't mind being a long way from the nearest hospital, you're a good candidate for a Nordstjernen adventure cruise.
Accessibility: Although the Nordstjernen has been refitted several times, the ship's 1950s design and layout don't allow for wheelchair access. Corridors are narrow, doors are even narrower, and there's no elevator. Also, shore landings are an integral part of the cruise experience, and there's no safe way for wheelchair users or other mobility-impaired guests to get into the PolarCirkel boats.
2018 update: MS Nordstjernen is still officially part of Hurtigruten's fleet, but the company's Svalbard cruiss are now being offered on newer ships.
Next page: Cabins on the Nordstjernen
---
---
---