Europe > Norway > Longyearbyen
Longyearbyen, Svalbard
Travel and Tourist Information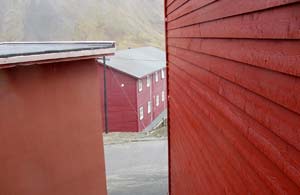 ABOVE: Apartment houses near the Spitsbergen Hotel in Longyearbyen. INSET BELOW: The Svalbard archipelago has more polar bears than people.

Longyearbyen is the administrative center of Svalbard, an Arctic territory governed by Norway whose largest island--Spitsbergen--is a haven for nature lovers, Arctic researchers, wilderness trekkers, reindeer, and polar bears.
Longyearbyen is also the world's northernmost municipality, with a population of 1,900 and more amenities than you might expect in such a remote location. (One of the local pubs claims to have the world's third-largest collection of spirits.) Scientists, tourist guides, miners, administrators, and other residents come from more than 30 countries, and though Norwegian is the official language, English is widely understood.
In the following pages, you'll find practical information and photos to help you plan your visit to Longyearbyen and Svalbard, a region that has been described as "an oasis in a world of ice."