A Hospital in Rome
Page 3
Continued from page 2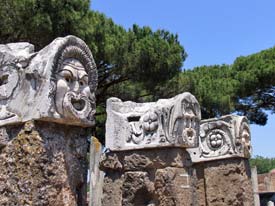 ABOVE: My hospital roommate, a retired Alitalia pilot, lived near the ruins of Ostia Antica, which I later passed during a taxi ride to the Leonardo da Vinci International Airport at Fiumicino.
Life in an Italian hospital
Because the CT scan hadn't shown any brain anomalies and my other tests had come up negative, the doctors were ready to discharge me after my three nights in the observation ward. However, when a nurse saw that I still couldn't walk in a straight line, he alerted a doctor and I was moved to a bed in a double room down the hall. I was pencilled in for another series of tests, and the doctors began a full-fledged anti-stroke treatment with heparin shots on top of the medications I'd already been receiving.
(I figured out what was going on mostly by talking to my wife, who wrote down my medications and searched the Web to learn what they were used for.)
Each day, I thought I was a day or two away from release; each time I was ready to pack and leave, the doctors ordered another test. It was clear that, because I was alone in Italy and had a long flight home, the doctors weren't going to let me leave until they were sure that I was healthy enough to be on my own and to survive 12 hours or more in a crowded airplane.
Life at the Ospedale GB Grassi wasn't unpleasant, but there were a few surprises and cultural differences:
Good medical care, minimal amenities. The hospital didn't skimp on tests: I had multiple CT scans, an ultrasound examination of my heart, Doppler scans of major arteries, and an MRI brain scan. Patient amenities were a different story: There was no TV (which was just as well), and towels and pajamas were supplied by the patients. (I slept in my underwear and used handkerchiefs for towels.)
For entertainment, I read every book and brochure that I'd brought with me--twice, in some cases--until the Consular Section of the U.S. Embassy in Rome came to my rescue with a stack of magazines after my wife gave them a call. (See sidebar.)
Surprisingly decent food. Breakfast wasn't much--two packets of rusks, marmelade, and coffee or tea--but lunch was a hearty meal of pasta, vegetables, fruit, bread, and a main course such as grilled sole, chicken with lemon, or veal stew. Supper normally consisted of a soup with pasta, a hot or cold main course, bread, and a tasty yellow-green apple. (My Italian roommates weren't impressed by the quality, but they'd never eaten American institutional meals.)
No obvious pecking order. In an Italian hospital--or at least in the Ospedale GB Grassi--it can be hard to tell who's a doctor, who's a nurse, who's an orderly, and who's a volunteer. I often witnessed what appeared to be heated discussions between nurses or orderlies and physicians, and when a doctor was hesitant about allowing my previously scheduled discharge after 18 days, a nurse and my roommate came to my defense. (The doctor listened to our arguments good-naturedly, accepted my promise to visit a clinic back home, and okayed my release.)
A focus on care, not costs. In the United States, insurance companies and HMOs often dictate what kind of care a patient receives and how long the patient can stay in the hospital. At the Ospedale GB Grassi, the doctors--not an insurance company--decided how long I should be kept under observation and whether I should be kept in the hospital for treatment. I was never asked for any information except my name, and I received no bill when I checked out. (Memo to Italian taxpayers: Grazie mille a tutti, and I no longer seek or accept VAT refunds when I shop in Italy. )
Next page: What I learned from the experience
---
---
---
Photo copyright © Olga Skalkina.