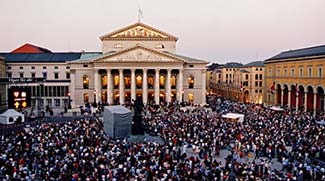 ABOVE: A free "Opera for All" performance on Max-Joseph-Platz, in front of the Nationaltheater. INSET BELOW: A free concert on Marstallplatz, and Kent Nagano conducting.
By Durant Imboden
Archived article from February, 2008:
In late June and July, 2007, the Bavarian State Opera (a.k.a. the Bayerische Staatsoper) presented the 132nd edition of the Munich Opera Festival under the artistic direction of Kent Nagano. The 60 events on the month-long program included 19 operas, two ballet productions, and dozens of concerts. Some 80,000 people bought tickets, and another 36,000 attended free "Opera für Alle" performances.

In 2008, the Bavarian State Opera will celebrate Munich's 850th birthday with an even more ambitious version of Europe's oldest music festival. In addition to a new production of Mozart's Idemeneo, the festival will present a concert of Richard Strauss's Four Last Songs and Thus Spake Zarathustra outdoors on the Marstallplatz. Thanks to the generous sponsorship of BMW (which has its headquarters in Munich), the Strauss concert will be free. It will be conducted by Kent Nagano with Anja Harteros as the soloist.

For July 28, the opera company has added an Opera Festival Gala Recital to its previously-announced schedule. Karita Mattila and Thomas Hampson will sing arias, duets, and assorted scenes from Verdi's La forza del destino, Macbeth, Simon Boccanegra, and Un ballo in maschera, from Tchaikovsky's Eugene Onegin, and from works of Johann Strauss II, Emmerich Kálmán, Franz Lehár, and Cole Porter. The recital will take place in the Nationaltheater under the baton of Kent Nagano.
Tickets start at €10 and can be ordered by contacting the Staatsoper by e-mail, mail, or fax. Internet and phone orders will be accepted starting March 31. For more information, See the English-language Tickets form and Advance Booking page at the Bayerische Staatsoper Web site.
(Source: Helen Kamioner, Creative Consultants for the Arts.)