Cardada-Cimetta Photos
From: Cardada Cable Car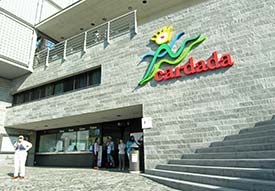 The Cardada base station is in Locarno's hillside district of Orselina, which you can reach via public bus or--better yet--with the FLMS Locarno-Orselina funicular. (The funicular has a stop at the pilgrimage church of Madonna del Sasso; ignore that stop and get off at final station, which is next door to the Cardada cable car.)
If you're coming by car, park in the garage by the FLMS funicular station in Locarno, which is only 100 meters from the FFS SBB CFF railroad station. Funiculars depart for Orselina every 15 minutes. Or park near the Lido swimming pool and take the FART No. 32 bus.
---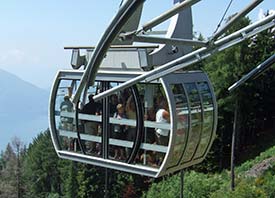 From the Orselina base station at 395 meters (1,296 feet) above sea level, a glass-walled gondola will take you to the Cardada station at 1,340 meters (4,396 feet) in about five minutes.

---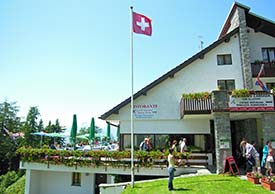 The funivia's upper station is next to the very pleasant Albergo Ristorante Cardada, which serves meals and drinks indoors and on the terrace in the left side of the photo above. The restaurant also has single and double guest rooms with private shower and WC.

---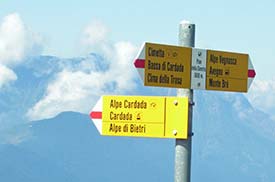 Hiking paths lead in several directions from the Cardada funivia's upper station. You can walk in the immediate area or hike back down to Orselina and Locarno. Mountain biking, orienteering, and paragliding are other options.

---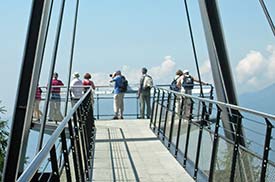 Not far from the Cardada upper station and restaurant, a passerella or scenic overlook bridge offers spectacular views to those who aren't fazed by heights, vibrations, or swaying.

---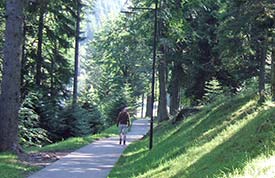 In the other direction, a path through the woods leads past a playground, park benches, and other amenities.

---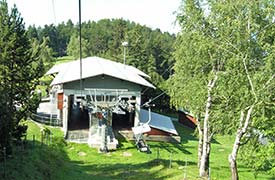 At the end of the path is the base station of the Cimetta chairlift, which will carry you to an elevation of 1640 meters or 5,479 feet. (For timetables, visit the main Cardada site at www.cardada.ch.)

---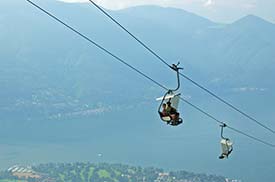 The Cimetta lift's two-person chairs glide high above the ground (and even higher above Lake Maggiore and the city in the distance).

---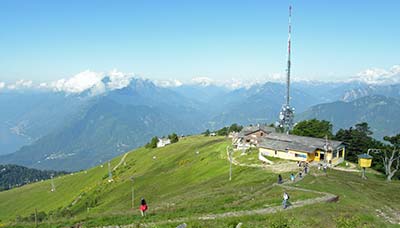 The upper station of the Cimetta chairlift is next to a geological observatory and antenna tower. Walk up the hill, and you'll be able to enjoy a 360-degree view that encompasses the lowest and highest points in Switzerland (the Maggia River delta between Locarno and Ascona, and the summit of Monte Rosa).

---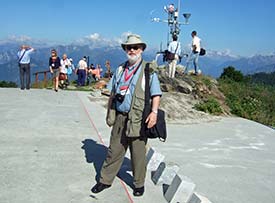 In this photo, your author straddles a red line that marks the junction of the European and African tectonic plates.
---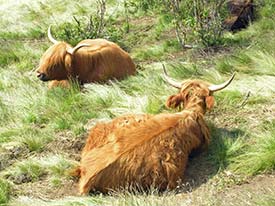 For a pleasant walk, take the chairlift to Cimetta and follow the gentle hiking path down to the Cardada cablecar station.
Along the way, you'll pass something that you don't often see in Switzerland: a herd of Scottish Highland Cattle.
---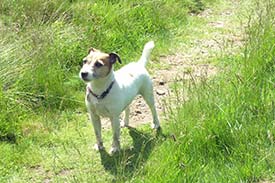 You needn't be a mountaineer to enjoy the scenery: On my walk from Cimetta to Cardada, I encountered this Jack Russell Terrier, which kept darting back and forth between a young mother, her small child, and a grandmother who were hiking up the path.
Back to: Cardada Cable Car: Introduction