Cardada Cable Car
Locarno, Ticino, Switzerland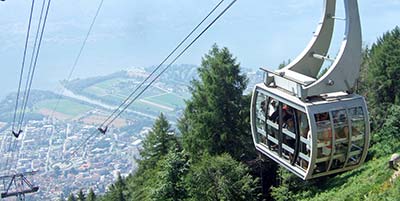 ABOVE: The Cardada funivia whisks locals and visitors from Locarno to a mountain resort with panoramic views of Lake Maggiore and the Alps.
By Durant Imboden
Locarno, in Switzerland's Italian-speaking canton of Ticino, is on the northern shore of Lake Maggiore, which it shares with Italy.
From the town, a funicular leads up to the hillside commune of Orselina and a pilgrimage church, the Santuario della Madonna del Sasso.

Next to the funicular terminus, a modern cableway station (designed by the world-renowned Ticinese architect Mario Botta) offers a scenic trip by aerial cablecar to the mountain resort of Cardada at 1340 meters or 4,396 feet above sea level.
From Cardada, you can then walk a few minutes to the Cimetta chairlift, which will carry you to a viewing point at an elevation of 1670 meters or 5,479 feet.
The excursion isn't cheap, but the scenery is unforgettable, and you can easily spend half a day riding the cablecar and chairlift, hiking along the mountain ridge, enjoying the scenery, and having lunch on the restaurant terrace next to the Cardada cableway's upper station.
For timetables and fares, visit www.cardada.ch. For information on how to reach the cablecar station and what you'll see during your trip, see our Cardada-Cimetta photo gallery on the next page.