Hotel Palafitte, Neuchâtel
Page 3
Continued from page 2
More photos of Hôtel Palafitte

Boardwalks lead to the Hotel Palafitte's rooms or "pavilions."
---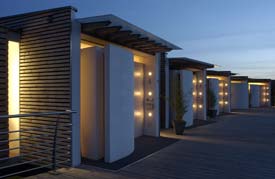 Memorize your room's location during the daytime, because the room numbers can be hard to read after dark. (You won't need to fumble with a keyhole or a card slot; you unlock your room by holding a "smart card" near an RFID sensor.)
---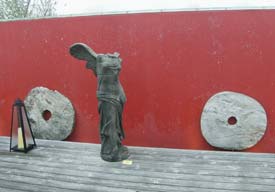 Art objects remind visitors that they aren't in Blackpool or Asbury Park.
---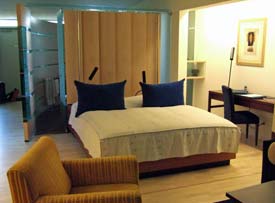 The bed is located between the bathroom (behind wood louvres) and the seating area. A desk is on the right; the personal computer and Nespresso machine are to the left of the photo.
---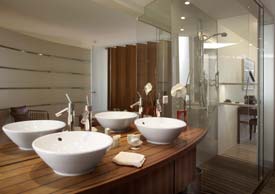 The bathroom has two sinks, a glass shower stall that gives a view of the bedroom (and vice versa), a large whirlpool tub, and dimmer-controlled mood lighting. The toilet is in a separate room just inside the pavilion's entrance.
---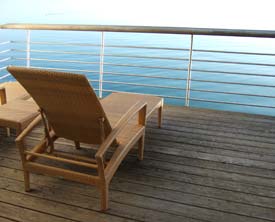 All pavillions have balconies. The most desirable balconies are in the lake pavilions, where you can watch the sailboats and listen to the ducks and other waterfowl outside your room. If you'd like to swim (as my neighbor did), just climb down the short ladder from your balcony to the lake.
Back to: Hotel Palafitte: Introduction
---
---
---
Top and bathroom photos copyright © Hôtel Palafitte.